Intelligent & Automated Vertical Carousel System
KenWei Automation Technology has been committed to designing and producing the most intelligent and efficient vertical storage carousel systems and Paternoster racking systems for various products in various industries for many years. Our Automated Vertical Carousels & Vertical Paternoster Racking Systems are widely used to store daily necessities, building materials, printing drums, tires, clothing, hardware and manufactured items and so on. Our vertical carousels benefits your business with quality and prices.
Within the wide range of storage systems that have been developed to modernize the supply chain, a series of goods-to-person inventory management system has been created in which automation is the key. This is referred to the Vertical Carousel Systems, which is storage arrangements for small and medium loads, based on a product-to-man strategy, save time and effort and therefore increase efficiency.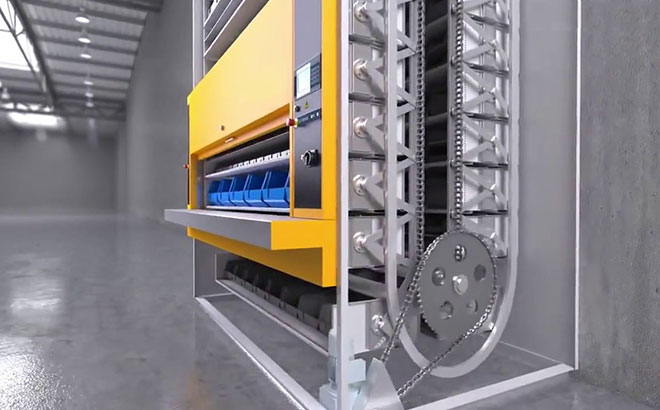 What Is Vertical Carousel System (Vertical Paternoster Racking System)?
Vertical carousel system is a storage system or Paternoster racking system that makes the most of the height of a warehouse or warehouse since it can use the entire height under the roof. Automatic vertical carousels are a great ally for storage logistics not only due to space savings, but also for improving times and reducing errors in the picking of products and documents. Vertical carousels consist of a structure inside which a series of shelves or hangers rotate vertically in which the merchandise is housed. A part of this structure is open so that the operator can have their content available for later use. The main quality of vertical storage systems is the maximum use of the available height with the smallest surface used.
Advantages of Vertical Carousel System
Among the main benefits that this paternoster racking system provides to companies, the following can be mentioned:
Greater storage space, up to 80% more than other systems.
Better use of space, because it uses a vertical area from the floor, which means that there is more volume capacity in less surface, which generates additional savings.
Due to the optimization that is achieved, it generates high productivity since the products reach the operator and not the other way around.
Speed of operations of up to three times more. The higher speed of operations means that it is possible to go from about 50 manual picking lines per person / hour, to about 120-300 lines in the same time with this system, according to calculations.
Thanks to the use of software and an automated sorting system, less time is required to develop the collection and storage process.
Exact times spent on hits and sorting can be measured.
It is a system designed with ergonomic conditions for the operators, because the merchandise access area is located at an ideal height for handling, without the person having to bend down or lift heavy objects.
More security for operators, thanks to the fact that the warehouse is protected by automatic doors in the access area and there are even some that require a password for authorized control of its use.
Registration and control. Each movement of the stock is registered in order to avoid the loss of products or unnecessary procedures.