KenWei Automation Technology is a leading brand in China's automated motor production line solutions and a professional supplier of motor pallet conveyors & electronics assembly lines. We are mainly provides various automatic assembly line, motor paint overhead conveyors, and motor bearing press and assembly line|pallet conveyors which are necessary equipment for circuit board assembly lines in the fields of consumer, national defense, automobiles, and medical electronics.
What Is Motor Production Line?
Motor Production Line is referred to the automatic motor assembly line, is an effective combination of humans and machines, which fully reflects the flexibility of the equipment. It organically combines the conveying system, the accompanying fixture, the online special machine, and the testing equipment to meet the assembly requirements of a variety of products. The transmission method of the motor assembly line can be synchronous transmission/(mandatory) or non-synchronous transmission/(flexible). According to the choice of configuration, manual assembly or semi-automatic assembly can be realized. The automated motor production line is indispensable in the mass production of automobile enterprises. The engine assembly production line is mainly composed of wire frame, accumulation raceway, tooling tray, limit device, driving mechanism, transverse transition mechanism, electrical control system, air source processing and working system, lighting device and other auxiliary working systems, etc.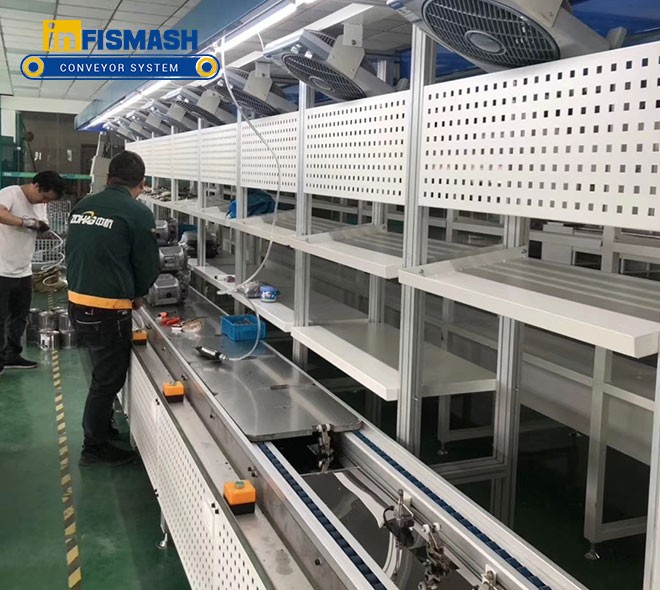 The Important of Motor Production Line
The engine (motor) is the most technologically intensive key component in the automotive and other machine manufacturing field. In the assembly process of the motor, due to the diversity of assembled parts and the cumbersome process, the automotive engine assembly line is particularly important. The engine production line is an assembly line process for sequential assembly of engines. Each station is production line. Therefore, the control of each link must have high reliability and a certain sensitivity to ensure the continuity and stability of production. Reasonable planning of the motor assembly line can better realize the high precision, high efficiency, high flexibility and high quality of the product.
KenWei Automated Motor Assembly Lines & Conveyors
KenWei Automation Technology is dedicated to the design, manufacture and assembly of engine production lines, designed both for industrial automation and for the handling and assembly of product parts. KenWei motor production line give your operators greater comfort when joining the engine and transmission to the axles, lift, move and rotate the vehicle.
Automation of a motor assembly line, from receipt of the machined block to final tests. For this project, a closed circuit of motor bearing press and assembly line, pallet conveyors and overhead conveyors with high load capacity was designed, with stops at the different work stations to carry out the assembly and assembly of the motor.