KenWei Smart Tower Storage – Intelligent SMD Boxes For Electronic Components & Medicines
KenWei specializes in providing diversified innovated Smart Tower Storage Solutions for refined material inventory management, especially in the electronic original manufacturing industry and the pharmaceutical industry. Our automated material storage tower box is designed to minimize and move your material inventory and digitize it. We ensure inventory, improve productivity and accuracy.
What is Smart Tower Storage?
Smart tower storage is an automated material storage and retrieval warehouse machine with built-in tower structure shelves. This fully automated and intelligent storage system establishes a connection between production and logistics, and can realize automatic storage and retrieval processes such as one-dimensional/two-dimensional bar code recognition, temperature and humidity management, and work order management. Therefore, this Smart Material Storage Tower Carts, also called SMD Storage Boxes, is not only the storage of electronic components and patches, but also the storage of small parts and small objects in any industry, as well as the storage of products in the pharmaceutical industry.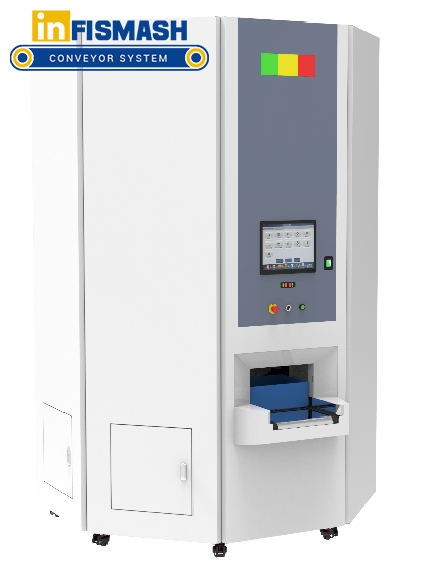 KenWei SMD Tower Storage Specifications
The innovative smart storage tower box provided by KenWei has superb batch material handling capabilities. By placing materials in the loading area, the system can identify, locate, and store materials without interruption. Our Smart Tower Storage System has a highly reliable servo motor system and an advanced camera system for material identification and barcode reading.
The storage unit specification configuration of each element tower can be dynamically adjusted according to the existing material types.
According to the work order, batch discharging can be carried out to improve the utilization rate of each component tower and the overall discharge efficiency.
It can be connected with AGV or automatic logistics line to realize remote ordering and automatic distribution of materials.
KenWei SMD Storage Tower Box Applications
Applicable scene
Automotive electronics, 3C electronics production industry
Medical high-risk drugs or equipment, small pharmacies, etc.
Other manufacturing industries with small capacity, access control, and refined management requirements
KenWei SMD Storage Box Advantages
Efficient use of space layout
Greatly improve picking efficiency
The accuracy of handling stock products is as high as 99%
Accurate inventory and information control
Handle the confirmed cargo in an ergonomic way
Now contact KenWei to build a smart component storage system benefit your bottom line in both cost and quality aspects!