Electronics ASRS Solutions – KENWEI Intelligent Storage System for Electronic/Precision Industry
In the highly complex electronic and technical fields, complete warehouse control is a must. The electronic components industry needs a flexible and intelligent production system that supports just-in-time parts supply and variable-variable production to improve work efficiency. We propose a smart electronic product storage process that flexibly automates the inbound and extraction of electronic materials, the inbound and outbound products of finished products, changes in settings and changes in production plans. Automatic storage and order picking also ensure cost reduction, maximum use of space, optimum climatic conditions and absolute cleanliness.
Benefits of Using KENWEI ASRA Vertical Carousels for Electronic/Precision Manufacturing
With a broad product portfolio and numerous applications, KENWEI is a proven in-house smart warehousing partner for the electronics industry. Here are the advantages of our solution:
Accurate Inventory Management – Adopt scientific adjustment algorithm, control circuit, and record and access data in real time. Inventory levels can be continuously monitored in real time through a direct link to an enterprise resource planning (ERP) system.
Save Space – High storage density reduces horizontal footprint by up to 80%. This means you will be able to store the same amount of inventory in 10-25% of the original space.
Quality & Safety – Humidity and temperature regulation for storage of sensitive products in compliance with clean room conditions. It has the comprehensive results of dustproof, anti-damage, moisture-proof and fireproof.
Storage Flexibility – Maximum flexibility and continuous adaptation to the handling of SMD components of various sizes. According to different placement needs, different internal structures, proper placement and use.
Production batch traceabilitY – Support real-time recording of operation logs, log viewing and retrieval of required tool information according to the background management platform to facilitate event tracing.
Reduce Work Errors – It greatly reduces the possible confusion and accidents caused by raw materials, costs, and human factors in the management of file storage and retrieval in the traditional electronics industry. It can identify records in real time 24 hours a day, prevent unauthorized access, and ensure item safety.
Increase Productivity – Whether the system is automatic or manual, all our vertical and horizontal storage systems are dedicated to the 'goods-to-people' working principle, significantly reducing waiting and walking times.
Cut Costs – Reliable and efficient warehousing and retrieval solutions reduce workflow, save space, and increase productivity, helping electronics companies achieve new levels of efficiency and profitability while saving labor and warehousing costs!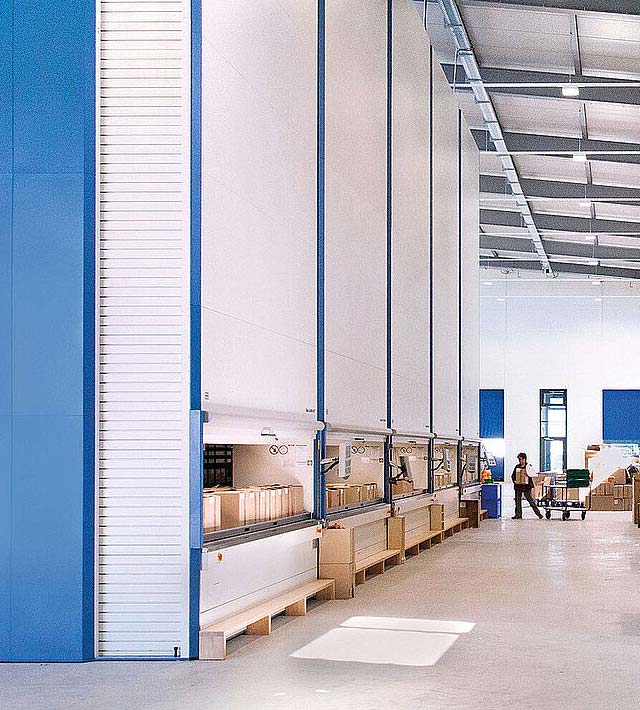 KENWEI Intelligent Storage Solutions for Electronics – Electronics Industry ASRS
Vertical Lift Modules
Can be used as storage for various electronic components, providing first-class high-tech warehouse organization and material handling systems, saving time, storage space and costs and enabling more efficient workflows. The ergonomic design reduces the physical strain of employees during work.
Vertical Motorized Carousels
In the manufacturing process of electronic products and components, raw materials, semi-finished products, and finished products need to be efficiently stored and transported, especially for the storage and transport of raw materials, semi-finished products and accessories that are "stored and withdrawn", our vertical rotary warehouse is your The best choice; through the effective cooperation of the WMS system, the production management system MES and other management systems, the supply of materials in the production process is realized, and the realization of intelligent manufacturing is facilitated.
IMS600M Smart Cabinet
KENWEI IMS600M intelligent cabinet solves the problems of frequent use of tools and inability to keep up with personnel management, realizing the functions of multi-quantitative management of tools, intelligent access, online monitoring, quantity calculation, log query, etc. The intelligent tool cabinet is equipped with tool cabinet management The system realizes the purpose of simple operation, fast and intelligent access, effectively improves the efficiency of tool management, and makes tool management more intelligent, standardized and automated.
Vertical Carousel Filing Systems
The 24-hour intelligent file storage cabinet is used for automatic storage and retrieval of enterprise personnel resumes, important contract documents, production plan files, etc. Such an operation mode can effectively adjust the office hours of users and office staff, and is more flexible and convenient. Make file exchange management standardized, standardized and intelligent. We offer a variety of automatic file storage devices that you can choose freely according to your needs.
According to your site conditions and actual needs, KENWEI designs a more scientific and reasonable storage system for your electronic component production, optimizes logistics in the production process, increases the utilization of storage space, reduces storage and transportation costs, and improves turnover efficiency. Our products are dedicated to helping you automate material flow and storage efficiently and cost-effectively.