KENWEI Intelligent Automated Storage System for Furniture Industry
KENWEI's intelligent automatic storage equipment provides a convenient and efficient material and accessories storage management system for the furniture production industry! Whether it is in the semi-finished furniture production workshop or the finished furniture assembly site, or even in the warehouse of a furniture product dealer, our automated revolving warehouse and modular lifting warehouse can greatly reduce your labor and space costs, and improve productivity and efficiency.
Our ASRS Storage Solutions for Furniture Industrry (Vertical Carousels & Smart Storage Cabinets)
We can provide a variety of locally adapted ASRS solutions for the furniture production industry and sales industry to meet your storage needs and fully intelligent inventory management!
Smart Motorized Vertical Carousels for Furniture Manufacturing
These vertical carousels with large storage capacity can be placed in furniture production workshops to store a variety of furniture materials and accessories (even reel tape for furniture trimming), so that workers can quickly and easily Get the materials you need for production! The fully automated and ergonomic operating system not only saves labor but also provides maximum protection.
Vertical Lift Module Carousels for Furniture Hardware Accessories Storage
The best storage solution for furniture hardware accessories, not only can be placed in the center of the production area to quickly extract materials to complete the production, but also can be used in furniture dealers' warehouses to store various home accessories. When a part is required, initiate a request directly in the warehouse management system. The request is then transmitted to the storage system controller.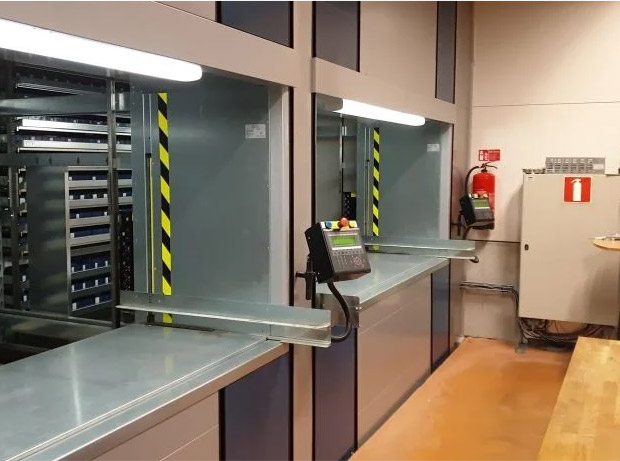 Benefits of Using Our Vertical Carousels for Furniture Manufacturing and Storage
Fully automatic operation realizes the logistics storage method of "from goods to people", and it is convenient and fast to access items;
Make full use of the vertical space of the warehouse, save at least 90% of the storage space, and improve the picking efficiency by at least 2-3 times;
It has better security protection function;
The equipment is fully enclosed, which can effectively avoid the damage of dust and sunlight;
Multi-level authority management function;
first in first out;
Single machine manual, automatic, online automatic multiple operation modes;
Compact structure, precise control, suitable for storing items with large differences in size and specifications, and low power consumption;
Automatic height measurement, reasonable arrangement of storage space, higher space utilization;
Automatic storage space optimization;
Running more smoothly, faster and safer;
The cabinet body is stronger and the bearing capacity is stronger
Effective use of space height, the height can reach more than 20 meters;
It can cross floors, and set up pickup ports on each floor as needed, making access more convenient and fast;
The serialized and modular design provides users with more choices, the shortest lead time is 4 weeks, and can be customized according to user needs.