KENWEI Hospital Intelligent ASRS Storage Solutions – Drug & File Storage and Retrieval System
Whether it is in pharmacies, hospitals, nursing centers, or even pharmaceutical companies, since the quality of medicines directly affects the health of consumers, the storage scheme of medicines must have strict requirements, not only to improve the efficiency of rapid extraction and storage, but also to ensure hygiene and reliability of stored procedures. The automated storage system provided by KENWEI Stereo Rotary Warehouse enables error-free workflow and complete traceability back to the source of each batch. Automatic storage and order picking also ensure cost reduction, maximum use of space, optimum climatic conditions and absolute cleanliness.
Motorized Carousel Storage System For Hopsital's Medicine and File Management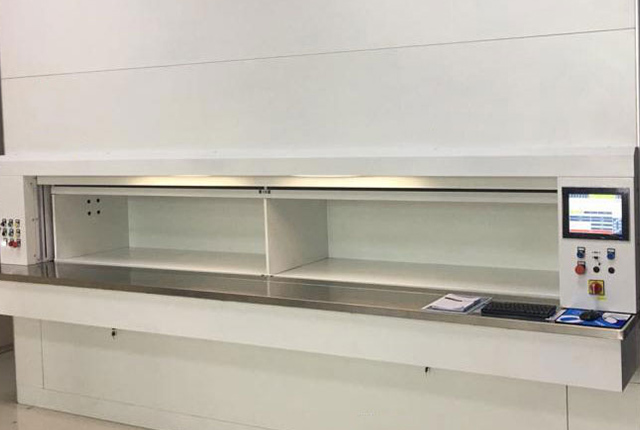 Vertical carousels are fully integrated with management software, allowing comprehensive management of the hospital, pharmacy, and clinic, from the arrival of the medicine to its dispensing to the patient, and from faster retrieval of requested files and documents to doctors. It is designed to fit the main needs of the pharmacy, and the wide range of formats of vertical carousels ensures an optimal cost / benefit equation. They are designed to fit the main needs of the pharmacy/hospital/care center, and the wide range of vertical carousel formats ensures an optimal cost / benefit equation.
SAFETY
Our automated storage system includes safety devices that have the movement of the vertical carousel before any event. It has emergency stops (panic or emergency button) to instantly stop the carousel.
In the workplace there are infrared safety barriers that, in the event of any event automatically stop the movement of the carousel, when they are interrupted by the operator or the stored material.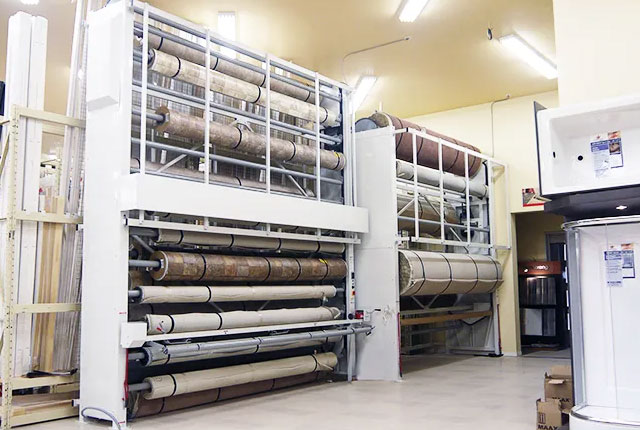 EFFICIENCY
Allows you to make the most of the space in the pharmacy, reducing by more than 65%
medication storage area.
Significantly reduces the number of working hours for stock replenishment and assembly of orders and recipes.
Minimize dispensing errors, significantly lowering returns by mistake to the pharmacy. Increases productivity in pharmacy.
PATIENT HEALTHY
Ensures the preparation of the recipe, helping the operator through the pick to light system (luminous identification) TIC BAR (Digital Transaction Information Center) and validation
through barcodes.
Offers full monitoring of delivered drugs, allows precise control of stored medications, minimizes medication dispensing errors by 99.9%
KENWEI Drug Storage Solutions and File ManagementSystems for Hospital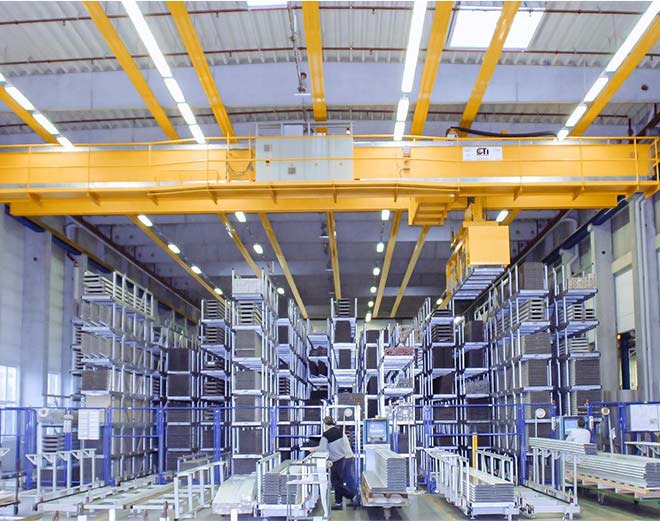 RFID Smart Container for Pharmaceutical Reagents
RFID smart medical consumables cabinet applies UHF RFID automatic identification technology to number each type or even each consumable, automatically scan and identify consumable information, track the use process of consumables, and connect with the background database, Smart products that can realize precise positioning, intelligent access, automatic inventory, real-time monitoring and other functions of medical consumables. Real-time dynamic display of consumables inventory, usage and out-of-stock information enables lean management of consumables application, procurement, and replenishment.
Smart Medicine Cabinets
used for automatic drug loading, storage and dispensing of medicines, mainly designed for hospital pharmacies and large retail pharmacies, seamlessly connected with the hospital HIS system, automatically receive information, and send the prepared medicines directly to Specify the location. The system is completely developed in accordance with the actual situation of pharmacies in my country, which can help pharmacies to improve the accuracy of dispensing, the efficiency of dispensing, and the management level, save pharmacy space, so as to better serve patients and bring more benefits.
Intelligent SMD Boxes
These small tower storage cabinets are ideal for storing small or small quantities of medicines in consultation rooms or operating rooms. By placing materials in the loading area, the system can identify, locate and store materials without interruption, our Smart Tower Storage Cabinets are designed to minimize, move and digitize your material inventory.
Vertical Carousel Filing Systems – This is the ideal storage system for patient and personnel files, a direct interface to the IT workplace, faster and easier storage and retrieval of various files and documents for a more efficient workflow. Use the most optimized space to store double the file size and keep it safe from dust and unauthorized access.