Smart Medicine Cabinets – Automated Pharmacy System
Ken Wei – China professional smart medicine cabinet supplier & manufacturer provides integrated intelligent medicine dispensing solutions for hospitals to build pharmacy automation systems! On the basis of our examination and research on the actual situation of the hospital, combined with the actual information such as the application area workflow and storage space of the medicine cabinet, we have developed a smart medicine cabinet scheme to meet the real needs of our customers through comprehensive analysis. Our smart medicine cabinets benefit users in terms of quality, price, and functionality, and are used in hospitals and medical facilities around the world.
KenWei Smart Medicine Dispensing Cabinets Features
Kenwei's automated medicine cabinets are modular in design with a separate system for drug storage, dispensing and administration. Automatic robots based on image recognition technology realize automatic drug administration. Parallel drug design, the maximum speed of the device up to 50 boxes / min. With dynamic inventory counting. With batch number tracking function, to achieve drug information. Products can achieve the drug's fully automatic drug application and distribution process, can greatly improve the efficiency of drug management.
Advantage
Efficient use of space, the realization of dissolved media storage, to solve site problems
Realize "what medicine to use what drugs" "drugs to people"
Manual, automatic dual mode, real-time instructions
Closed storage, lockable and light-avoidable
The device is in multi-unit mode and the system can operate individually or simultaneously
Multi-pharmacists can be used to issue drugs at the same time, breaking through the "bottleneck" of the speed of drug distribution
All-round diversified management, drug reserves, batches, distribution and other relevant information real-time query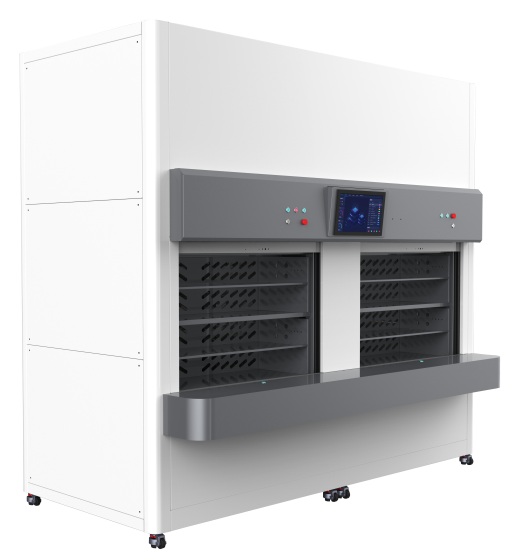 What is Smart Medicine Cabinet?
Smart Medicine Cabinet is a kind of medical equipment with a fully automated medicine storage and distribution system. Its efficient and safe way of working saves costs in terms of space, labor and time for medical places. Unlike a regular medicine cabinet, a touch display in a smart medicine cabinet with indicators in each row of drawers. It securely stores the different types of medicines and consumables needed for the ward and communicates with a central server connected to the hospital's information system, where electronic medical advice issued by doctors for patients is automatically transferred from the pharmacy to a smart medicine cabinet in the care area after being reviewed by a pharmacy pharmacist. Once the patient is admitted to the hospital, the patient's information is registered with the HIS system, so once the patient uses a smart medicine cabinet in the area, the patient's information is automatically sent to the system, where the system learns about the patient's hospitalization.
Not only that, but the automated medicine dispensing system provided also manages the inventory, and if the drug stock is removed, the insurance company or the government will be billed, so that when the patient is prescribed and used, the drug will be billed immediately. So the system not only helps to manage drug stocks, but also helps hospitals to manage information technology and ultimately ensure the safety of patients' medications, because patients are always given the right drugs at the right time.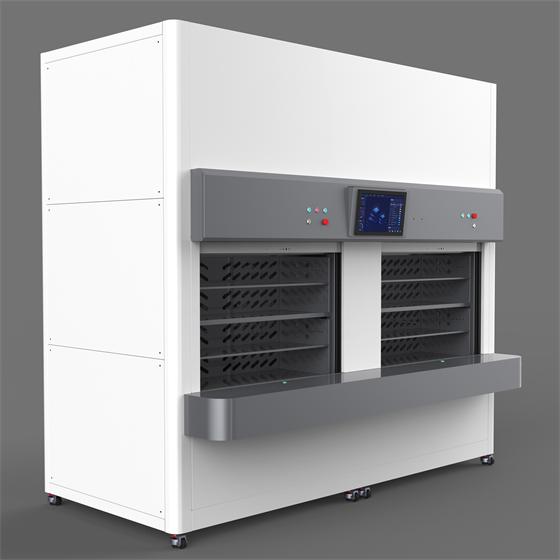 Main Automated Systems of the Intelligent Medicine Cabinet
Local storage and management of drug-related information through a local database. The drug storage management module consists of two parts: drug dictionary management and drug storage management.
The medicine dictionary stores basic information such as the number, name, bar code, etc. of all available medicines. The basic information of existing drugs can be added, modified and edited through drug dictionary management. You can modify the storage and storage location of drugs in intelligent access system, add drugs to intelligent access system, and remove drugs from intelligent access system.
Monitor and receive prescriptions generated by his HIS system in real time, query drug storage information in the local database, send received prescriptions to the appropriate down-position machine, and monitor the processing status of these prescriptions in real time.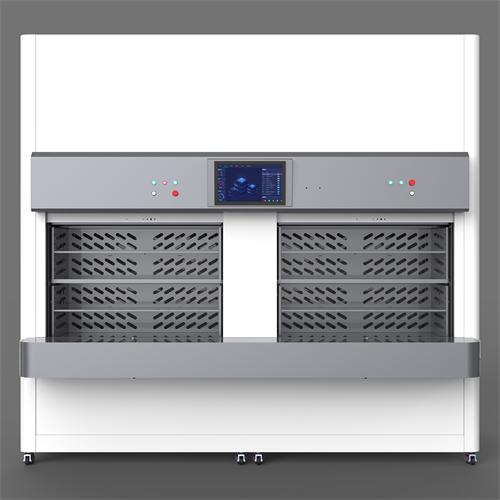 Benefits of Smart Pharmacy with Automated Medicine Dispensing Cabinets
Space: efficient use of space layout
Retrieval efficiency: greatly improved the efficiency of picking
Accuracy: The accuracy of processing stock products is as high as 99%
Control: precise inventory and information control
Ergonomics: Handle the determined goods in an ergonomic manner
KENWEI is a technology company engaged in the field of intelligent manufacturing, the main business includes various types of automated warehouse storage systems, intelligent production lines, intelligent three-dimensional warehouse system research and development and manufacturing. So if you're looking for cost-effective but drug storage and dispensing equipment for your pharmacy, hospital, and other medical facilities, KenWei could be your ideal smart medicine cabinet supplier!