KenWei Intelligent Mobile File Cabinet & High-Density Mobile Shelving
KENWEI Intelligent dense file rack is referred as an integrated intelligent high density Filing Cabinets, intelligent storage file system, set manual, electric, computer and handheld terminal four control modes. The computer control system is integrated with the entire high density file shelving, which realizes remote control and network management of the warehouse, providing the most efficient storage and management of archival materials for enterprises, government departments, businesses and production departments.
Specifications & Features of KenWei Intelligent Mobile Filing Cabinets/Racks
Advanced structure, simple operation, by the computer control system, electronic control system and mechanical transmission control system three parts, each independent and complementary and mutual protection.
Diversified functions, design from the perspective of humanization, equipped with intelligent control system and network management mode, to achieve macro-automatic control of file installation, and automatic human body protection and environmental adjustment, truly easy storage, efficient office role.
The Intelligent Mobile File Cabinet structure has open, semi-closed, fully enclosed and other styles for users to choose, and can be customized according to the user's requirements for diversified customization and manufacturing of special-shaped cabinets.
The body of High Density File Shelving adopts a first-class high-quality cold-rolled steel plate, all-steel frame, strong and stable, high load-bearing force; fashionable and atmospheric appearance, the surface is washed by work, degreasing, washed, rust removal, water washing, surface adjustment, phosphating, washing, baking, powder spraying, curing, spraying 12 treatment processes are smooth and smooth and textured.
Intelligent control of intelligent systems and equipment, no need to manually record temperature and humidity, no need to manually turn on and off air conditioners, dehumidifiers. Realize automatic control, record temperature and humidity, and automatically prompt the temperature and humidity inside and outside the dense rack; the temperature and humidity of the small space meet the standards.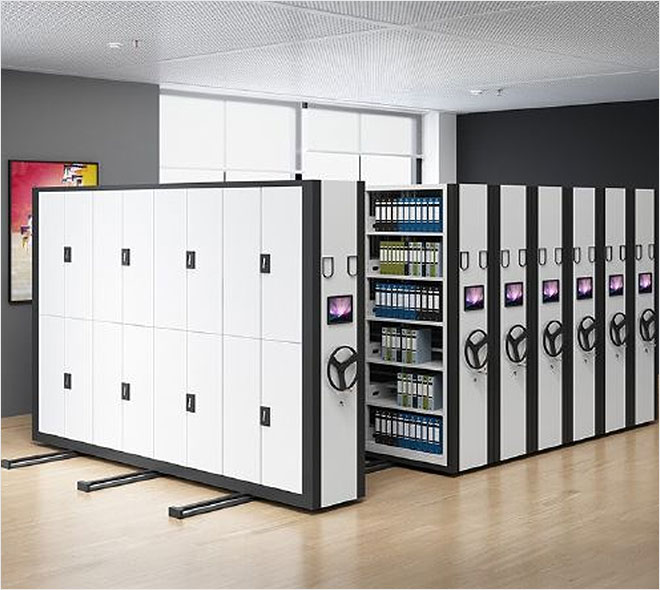 What is Intelligent Electrical High Density File Storage System?
Intelligent Electrical High Density File Storage System refers to an automated file and material storage and management system composed of smart dense file racks or intelligent mobile fileing cabinets. The intelligent dense cabinet is to control the file storage cabinet through an intelligent software system and perform automatic file storage and retrieval, so that it can not only use the space of the file room, but also expand the storage capacity of files. The intelligent compact rack system is mainly composed of the compact rack mechanical main body, computer control system, electronic control system and mechanical transmission system. The main advanced technologies are book file database management technology, communication and control technology between dense racks, LAN compatible sharing technology and modern drive control technology for dense racks.
Applications of The High-Density Mobile Storage System
The intelligent dense shelf can not only be used to store various books, archives, documents, samples, etc., but also can be used for computer management of various stored materials.
Dense cabinets are suitable for use in financial institutions (accounting firms), corporate units (finance rooms, sample libraries), government departments (courts, procuratorates), library management, and museum reference rooms or archives.
Advantages of High-Density Mobile Shelving Products
Excellent file data management capabilities – the automatic positioning function of the intelligent file dense cabinet can realize the disorderly storage and orderly management of file data, and can find the file data we need in the fastest speed, so that we can save a lot of time and improve the efficiency of our file data management.
Large storage capacity and space saving – can make full use of warehouse space, compared with the traditional file cabinet, its data storage capacity can be increased by more than 50%. Large capacity design, one computer can manage 16 partitions, 30 columns per district.
Considerable cost-effectiveness – Intelligent dense cabinet not only helps you save money in space, but also greatly reduces the labor intensity of file management personnel, making file management easier and faster, so it also realizes the optimization of labor costs.
Staff safety guarantee – each row of high density file shelving is equipped with automatic handbrake, cushioning device and side row lock, safe, easy to use, not easy to tilt, with shockproof function. The infrared detection function can monitor whether there are staff in the frame to automatically close and close, effectively ensuring the operational safety of personnel.
File security guarantee – all racks and cabinets in the system have excellent shockproof, anti-collision, fireproof, dustproof, lightproof, ratproof, moisture-proof function and excellent rust-proof performance, which can safely and reliably store your valuable documents and archives for a long time.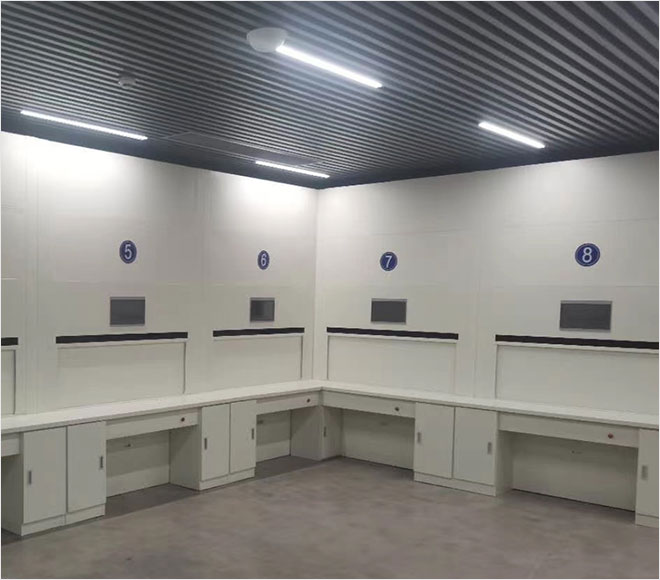 Intelligent file dense cabinets can achieve docking with the original system – our intelligent dense cabinet products have realized the docking with the original system in the unit, eliminating the trouble of re-entry, saving us a lot of time and workload.
Intelligent file intensive rack and integrated management system – controlled and managed by a set of management software. Realize the item-level management of archives, the physical management of archives, the management and control of temperature and humidity in warehouses and dense shelves.
High-end and reliable quality – the overall structure is strong and durable, good rigidity, never deformed after full load; the frame operation is light and flexible, the operation is balanced, the service life is long, and it can be disassembled and used twice.
Strong customizability – the file administrator can customize the intelligent file cabinet suitable for their own needs according to their own file management status, the number of shelves and spacing can be adjusted, and customers can obtain a novel high-density archiving system with aesthetic effects according to actual needs, so as to achieve the neat and beautiful appearance of the warehouse.
Lowest Budget – Not only do we offer high-quality products at the best price, but our experts can design the best solution that best suits your budget according to the needs of our customers. So by partnering with us, you can reap the benefits of both cost and product usage!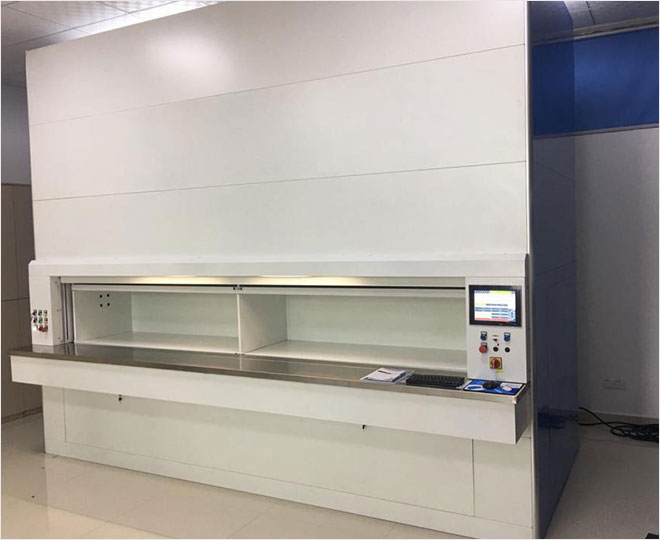 We respond to every client's requests to provide the most cost-effective Intelligent Electrical High Density File Storage System to help you increase the storage capacity in the current space, and to improve the storage efficiency and reduce the space while maintaining the storage capacity so far. Now contact us for more professional advise about about high density file shelving products.