CD series automatic layer selection file cabinet
The file cabinet file cabinet working principle in the continuous lift container is based on my vertical lift container, combined with the automated three-dimensional warehouse structure developed. The equipment takes pallets as storage units and transports pallets to storage locations or pick-up ports by moving the lift trolley between multiple vertical lift container units. The equipment utilizes space to increase the inventory area, runs fast and has low noise. The equipment can effectively detect the height of different materials and reasonably arrange the storage location by using an automatic height-measuring light curtain. The combination design of the cabinets makes short-term storage more flexible and can greatly improve the space utilization rate.
CD series automatic layer selection filing cabinet product materials and technical indicators
The fully enclosed shell and machine structure are mainly made of high-quality carbon-structured cold-rolled steel plate, in line with the international GB912. Shear bending, molding, stamping, and other processes are used to strengthen the cabinet structure and increase its strength, while maintaining the benefits of light weight and solid structure.
The power transmission system uses the domestic famous brand Tsinghua Tongfang reducer motor. The product with the help of a high steel cast iron box is beautiful and sturdy; gear surface by carburizing hardening treatment, durable; small vibration, low noise, compact internal structure, small volume, transmission ratio grading fine, transmission power, excellent performance and high quality. It constitutes a perfect combination of gear rotation. It is the ideal electromechanical product in the domestic market at present.
The surface process of the file cabinet is electrostatic spraying. This product is processed by a spraying line, and the color can be selected according to the user's requirements. Its product paint film impact resistance reaches GB/T1732-1993 standard, while its paint film chemical reagent resistance reaches GB/T1763-1979 (89) standard.
The paint film adhesion reaches the GB/1720-1979 (89) standard. It has the advantages of brilliant surface gloss and uniform color thickness.
In order to ensure the safety of use, the control console is made of non-metal plate (fireproof veneer high-density medium fiber board), which plays the role of fireproof insulation and does not deform, and the electrical components and computers are installed in plastic isolation overhead.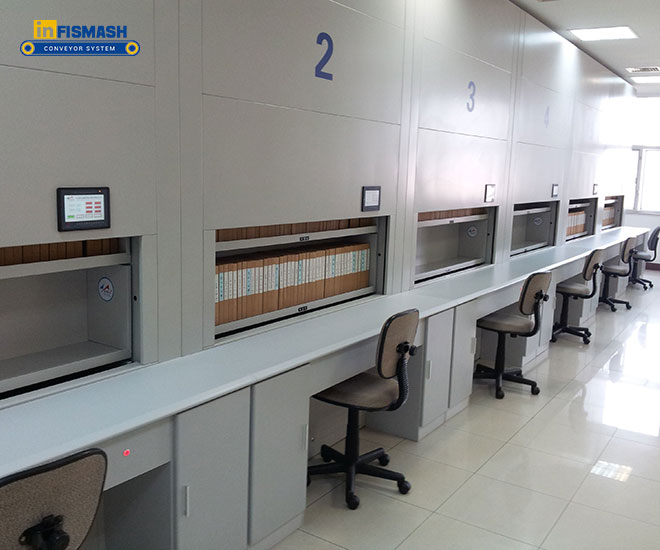 All electrical components are strictly selected and are domestic quality products insured by the People's Insurance Company of China. All electrical components have the product quality insurance mark of the People's Insurance Company of China.
Mechanical transmission, chain and sprocket choose 10A and 16A single-row chains; technical indexes are in line with the international IS 060 standard; the ultimate tensile load of the 16A type is at least 3200kg, and the actual load of the automatic layer selection filing cabinet designed by our factory is within 1000kg, so it will not cause mechanical fatigue and extension, and it has a large amount of strength redundancy.
Why choose KENWEI ARM automatic inventory filing cabinet system?
KENWEI company after years of production and sales of CD series automatic layer selection file cabinet, has accumulated a wealth of experience, but also in continuous improvement and practice, has been the majority of new and old customers support and advice, product production technology to achieve a very high stability.
With the rapid development of society, people's living standards continue to improve, the style of office furniture, supporting, design more and more their own style, so KENWEI filing cabinet to their product design, selection of materials, production to packaging and other procedures are using strict quality testing methods.