KenWei Pallet Lift Modules & Pan Carousels – Automated Vertical Pallet Storage System
KenWei provides high end lift pallet storage cabinets and pan carousels to optimize storage capacity and production performance, are widely used in three-dimensional automatic production lines to achieve three-dimensional transportation of goods. The principle of the vertical lifting container uses pallets as the storage unit, and there is an elevator moving up and down in the middle to store the pallets. The height of the vertical lifting container can range from 3m to 30m, and it covers an area of about 10 square meters. The specific size and configuration are customized according to the specific needs of customers.
Advantages
Modular design – The height can be adjusted quickly to meet various needs, and it can easily cope with the inconvenience caused by the change of location in the future.
Toothed belt conveyor – To ensure faster operation and more timely access, low noise and long service life.
Multi-capacity pallets – Different load-bearing pallets can be used in a unit mold meeting to ensure the flexibility and pertinence of inventory.
Plug-and-play software – The operating software used in this product is suitable for various management software such as WMS or ERP, plug-and-play.
Intelligent positioning – Intelligently trace the height of the stored goods, find the most ideal storage location in the equipment, automatically store the goods, and make full use of the space.
Automatic hatch – Block noise while ensuring the safety of operators and cargo.
Flexible pallet conveying – The height of the conveying pallet can be adjusted according to the height of the operator, which is convenient for work. One access window supports two pallet transfers, which is convenient and quick.
Built-in weight monitoring system – Pallet monitoring and unit load effectively prevent pallet overload or unit overload.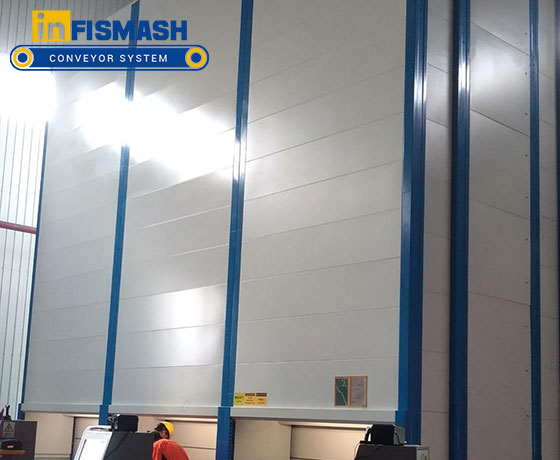 What Is Pallet Lift Module (Pan Carousel)?
Pallet Lift Module, referred to Pan Carousel is, a three-dimensional warehouse with pallets as the storage unit. Through the lifting movement of the translation machine, the pallets are sent to the position of the system command, or the pallets in a certain position of the system are automatically run and sent to the equipment for shipment. When the material exceeds the height set by the pallet lift system, the pan carousel will automatically lock and remind to intervene to ensure the safety of material storage. It can store small parts or some special-shaped materials, safe, accurate, reliable and timely. At the same time, the pan carousel system will automatically record the quantity of materials and the location of the storage unit to facilitate query, traceability and automatic inventory.
KenWei manufactures automated picking and storage solutions with the most advanced vertical pallet lift modules on the market. KenWei's innovative, automated pallet lift storage and retrieval solution is designed to optimize space and improve picking and storage operations. The Vertical Pallet Lift Module maximizes storage potential by taking advantage of the facility's total ceiling height.