KenWei Automatic Warehousing System (AS/RS Storage Solution)
The storage, conveyance, and sorting functions are consolidated, and goods in and out of goods and inventory are managed by WMS (Warehouse Management System), while automatic transportation to the process and replenishment to picking. It is an automated solution that rectifies the flow of goods in distribution centers and production sites together with information. A advanced storage system that realizes effective use of space and efficient warehousing and delivery. Automatically warehousing and unloading on high-rise shelves for all environments and transported items.
Features of Our Automated Warehouse (Smart Storage Systems)
Automated warehouse that contributes to space saving and inventory management:
Compatible with a variety of cargo forms in various industries
We have a wealth of know-how to handle a variety of cargo shapes, including pallets, containers, rolls, cases (one-size-fits-all), crates, long objects, and heavy items.
A wide range of automated warehouse solutions
We provide a variety of automated warehouse solutions for various applications such as refrigeration and refrigeration environments and dangerous goods storage.
Rich automatic warehouse applications
Utilizing various functions of automatic warehouses such as three-dimensional conveyance, multilayer floor access, and permutation issue, we realize a wide range of applications such as intermediates storage, G2P picking, multilayer floor supply, etc.
Various automatic warehouse systems
In addition to automated warehouses that combine racks and cranes, there are shuttle-type automatic warehouses and gantry robot type automatic warehouses.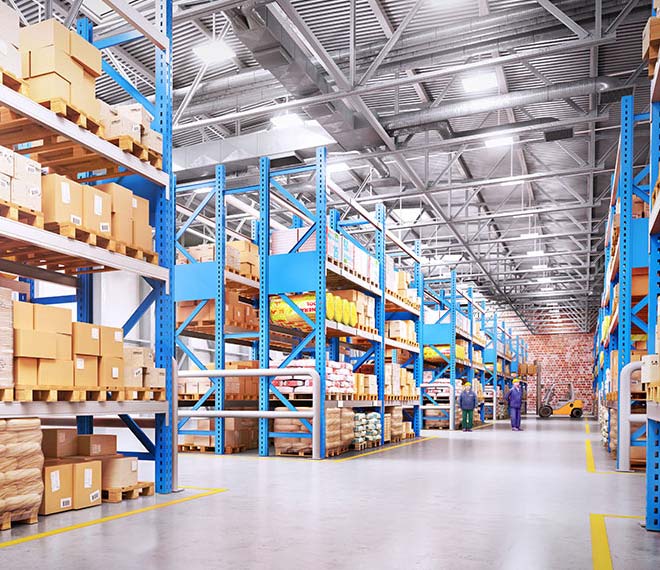 What is an Automatic Warehouse?
An automated warehouse is a warehouse that automates a series of tasks, such as goods receipt, storage, and issue. It is attracting a great deal of attention as a means to solve the labor shortage that is becoming more serious in the logistics industry.
Automated Warehouse System Composition & Types
The deployment of systems is essential to automating warehouses:
1.Automatic warehouse system
An automated warehouse system is an automation system that centrally manages and automates the flow from goods receipt to storage and issue. Warehouses are automated by introducing stacker racks( cargo racks), stacker cranes for loading and unloading goods, control devices, inventory management equipment, etc.
There are many different types of automated warehouse systems, each with different units and shapes of goods that can be stored:
Bucket type – A system that stores products in a rack in a small basket. Suitable for storing irregularly shaped products and parts.
Pallet type – A system for storing products in racks in pallet units in a high-rise building. It is a system that can be stored efficiently by taking advantage of the height direction. It is also suitable for cases where existing warehouses are used and cases where automatic guided vehicles are used together.
One-size-fits-all type – A system that can store products of various shapes and sizes, such as using trays, cardboard, and containers. It is suitable for cases where there are many types of products to handle and cases where special products are handled.
Mobile shelf type – A system for storing products in an electric rack on a mobile trolley. Since the rack moves, it can be stored densely, so it can be used effectively in the warehouse, and it also has the advantage of being able to pick efficiently.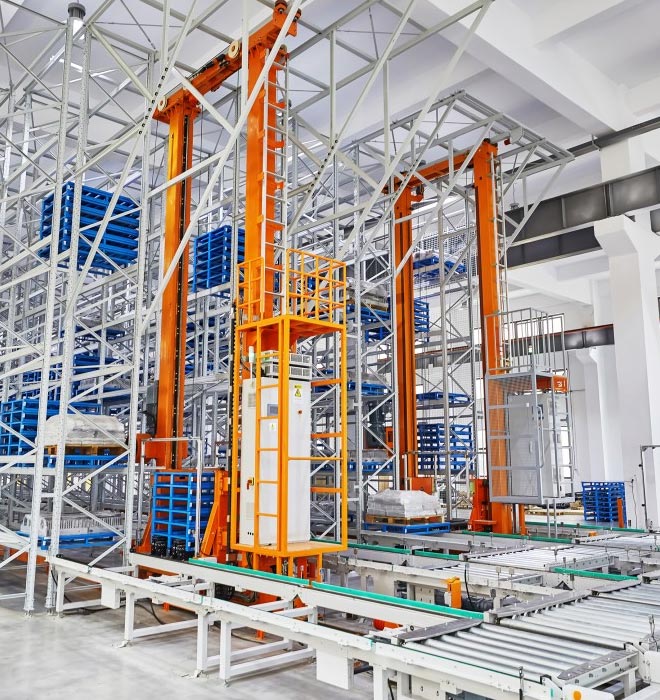 2.Picking system
The picking system is a generic term for systems that make picking more efficient.
The picking system using the handy terminal reads the barcode of the shipping order, picks the goods at the displayed location, reads the barcode of the goods, and matches it. As a result, picking time is shortened, and mistakes can be reduced by ensuring reliable inspection. In addition, the number of stocks is updated in real time and automatically aggregated.
Other types of picking systems include a digital picking system that looks at the digital display installed on the shelf of a product and picks, and a speech recognition system that wears a headset and picks according to voice instructions.
3.Automatic conveyance robot
Automatic conveyance robots are efficient by eliminating the work of people walking around the warehouse by moving the shelf containing the goods to be picked to the working station. When you load the shipping list, the robot carries the shelf to the working station and a person picks the necessary goods at the working station.
There are also types of automatic conveyance robots that move more efficiently through machine learning using AI.
4.Warehouse Management System (WMS)
The Warehouse Management System (WMS) is software that supports warehouse automation by centrally managing warehouse inbound and outbound, picking, inspection, inventory count, etc. It can be linked with inventory management systems and sales management systems.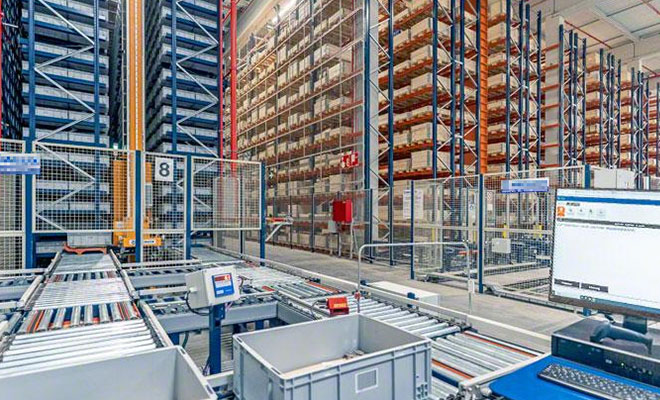 Benefits of Automated Warehouses
By introducing automatic warehouses, there are advantages such as improving business quality from various perspectives, such as improving productivity, saving storage space, and saving labor in inbound and outbound work and picking work.
Increase productivity and work efficiency – By automating warehouse operations such as inbound and outbound and picking work that humans have been doing so far.
Increase the burden and safety of employees – In addition, the robot can operate 24 hours a day, Increase productivity and eliminate the need for employees to work longer hours or take care of annoying shifts.
Space-saving – By introducing an automatic warehouse system, not only are passageways efficiently arranged, but space in the height direction that cannot be reached by people in the warehouse can be used effectively in particular.
Reducing human error – Since picking work with many mistakes in logistics operations can be robotized and automated, mistakes can be greatly reduced. It can reduce troubles and errors due to product mistakes.
Quality stability – The system introduction also achieves quality stability. It enables first-in, first-out, and ensures a high-quality state.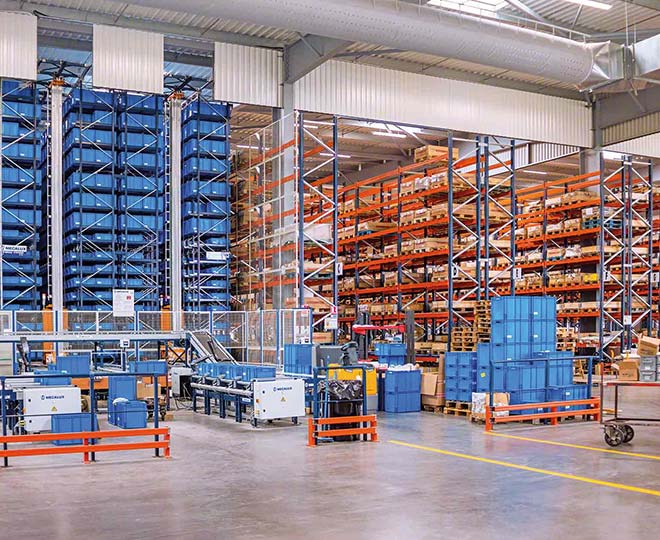 Customize the Automated Warehouse that Benefits You Business the Most
KenWei provides the new automated warehouse system with best-in-class loading and unloading capabilities that combines flexible storage and high-capacity conveying and sorting capabilities. We compactly summarize the functions required at production and logistics sites that require multi-product, frequent, and small-lot production that corresponds to just-in-time, logistics sites that require individual distribution and same-day delivery, and securing workers in the era of declining birthrate and aging population. With storage, picking, assorting and sorting capabilities, uni-shuttle HPR is a new solution that solves a variety of field problems.
So if you're having trouble with logistics and goods storage systems, Please consult us once by all means. Inquiries about products and solutions, requests for materials, we accept visits by the person in charge and opinions and requests to the Company and this site.