KenWei Tire Carousels – High Effective & Intelligent Vertical Tire Storage Solution
If you own an auto service center or tire retail shop, then you know how important it is to have an efficient tire storage system. Without one, your shop can quickly become cluttered, disorganized, and even dangerous. That's where the tire carousel comes in. This innovative storage solution allows you to store hundreds of tires in a compact, easy-to-access system that maximizes your storage capacity and minimizes your floor space. In this article, we'll take a closer look at the tire carousel and why it's the ultimate solution for efficient tire storage.
KenWei Tire Carousels offer the idea efficient and ergonomic methods to organize, display, store and retrieve tires! Our tire storage carousels are a semi-automatic equipment that has carriers that carry the tires in a rotating way to deliver them to the operator at an ergonomic height that eliminates the need for ladders, forklifts and any other dangerous or ineffective method.
By incorporating the carousel into your operation, the tires reach the operator's hands, thus eliminating the route to search for tires and acting in benefit of the health of your workers since the loading and unloading point of the carousel is designed in such a way ergonomic to facilitate handling of heavy and bulky tires.
Applications of KenWei Motorized Vertical Tire Carousels
KenWei as one of the best motorized tire carousel manufacturer, has taken on the task of finding the best system to organize and store your tires efficiently and ergonomically with our vertical tire carousel, which is one of the essential accessories in massive car garage and other industrial. Our tier carousels are widely used in these places:
Tire manufacturing workshop and warehouse
Automobile manufacturing workshops and warehouses
Automobile 4S shop and repair center
Large car garage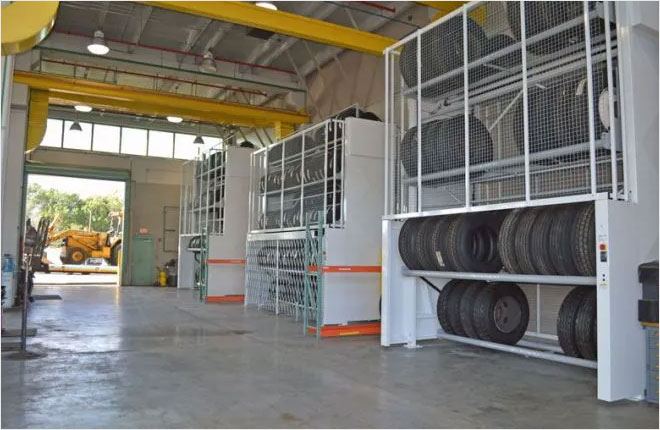 Main Advantages of KenWei Motorized Vertical Tire Storage Carousels
Optimized Space with Automated Models – Reduces the space occupied by your tires, recovering 70% of the space occupied by conventional storage;
Large Storage Capacity – Take advantage of the height of your warehouse or store, and multiple tire sizes can be stored in one place;
Labor Cost Saving – Only one operator is required to load and unload the carousel, the labor cost is thus optimized, and overall benefit is increased;
Saving Time – Reduce search and retrieval time and improve the capacity of the service/maintenance department;
Increased Productivity – With the tire carousel, worker can quickly access the tire models they need at the push of a button;
Inventory Management – Fewer errors when listing orders with simplify management, the stock being easily and quickly identifiable by brand and by reference;
Improved Safety – Many physical and dangerous manipulations related to storage and retrieval are eliminated, offers user comfort and increased safety;
Customization Possibilities – Dimensions and total capacity of the tire carousel can be customized to adapt perfectly to your premises.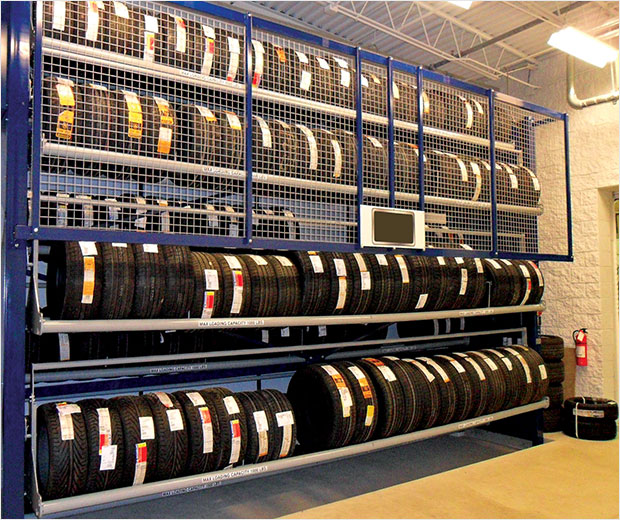 What is Motorized Tire Carousel?
Those who sell or distribute tires know how difficult it is to store them in a way that they are easy to identify and order according to the type of tire. It is an unavoidable challenge, such as space optimization or agility in order preparation, so how to store tires correctly to optimize costs and labor efficiency? Therefore, the solution that we recommend for the industrial storage of tires would be Motorized Tire Carousel, in this case, adapted for tires or wheels of different dimensions. This vertical carousel has proven to be particularly useful for efficient storage of large quantities of tires.
Motorized Tire Carousel is the intelligent vertical tire storage system which can is specially designed for storing, displaying and retrieving tires. By using vertical storage technology, tire carousels automatically stores a large number of tires on multi-story elevated racks, thereby optimizing your cubic space and allowing you to use the reclaimed space for other income-generating activities. All Tire Storage Carousels of KENWEI provide two-way rotation to transport the product to the operator, where the tire can be placed at an ergonomically acceptable height. Each tire carousel contains multiple tire limit bars to allow multiple sizes of tires to be stored side by side.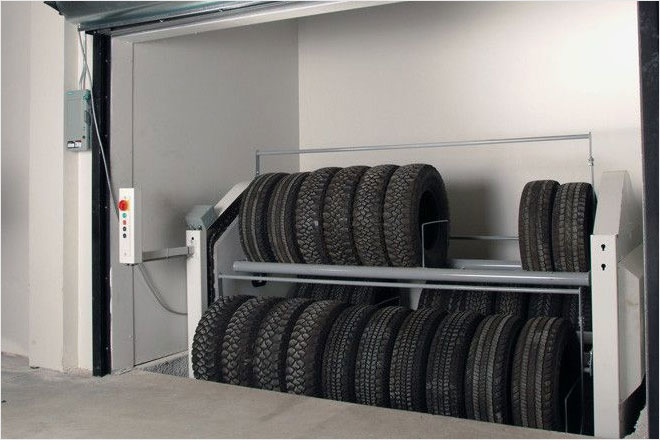 Your Trustworthy Vertical Tire Carousel Supplier – KenWei
KenWei as China Professional Tire Carousel Supplier and Manufacturer offer you customized Tier Storage Racks making full use of the height and depth available in warehouses, production workshops, and workplaces, is very suitable for high-density storage. Especially automobile and tire manufacturers use our tire storage carousel system to benefit from the rapid acquisition of automobile tires, large aircraft tires and heavy-duty tires. Optimizing material flow can increase overall productivity in the long term.
Choosing the Right Tire Carousel for Your Shop
750mm maximum tyre diameter
Model
Height
(mm)
Width
(mm)
Depth
(mm)
Carrier
qty
Tyre
qty
IN3600*750-6C
4010
4400
2700
6
90
IN3600*750-7C
4560
4400
2700
7
105
IN3600*750-8C
5110
4400
2700
8
120
IN3600*750-9C
5660
4400
2700
9
135
IN3600*750-10C
6210
4400
2700
10
150
*tyre quantity based on a 236mm wide tyres
750mm maximum tyre diameter
Model
Height
(mm)
Width
(mm)
Depth
(mm)
Carrier
qty
Tyre
qty
IN3600*750-6C
4010
4400
2700
6
120
IN3600*750-7C
4560
4400
2700
7
140
IN3600*750-8C
5110
4400
2700
8
160
IN3600*750-9C
5660
4400
2700
9
180
IN3600*750-10C
6210
4400
2700
10
200
*tyre quantity based on a 178mm wide tyres
813mm maximum tyre diameter
Model
Height
(mm)
Width
(mm)
Depth
(mm)
Carrier
qty
Tyre
qty
IN3600*813-6C
3950
4400
2800
6
90
IN3600*813-7C
4500
4400
2800
7
105
IN3600*813-8C
5050
4400
2800
8
120
IN3600*813-9C
5600
4400
2800
9
135
IN3600*813-10C
6150
4400
2800
10
150
*tyre quantity based on a 229mm wide tyres
1118mm maximum tyre diameter
Model
Height
(mm)
Width
(mm)
Depth
(mm)
Carrier
qty
Tyre
qty
IN3600*1118-4C
4410
4400
3270
4
58
IN3600*1118-5C
5310
4400
3270
5
60
IN3600*1118-6C
6210
4400
3270
6
72
IN3600*1118-7C
7110
4400
3270
7
84
*tyre quantity based on a 279mm wide tyres
Can't find the model you're looking for? CONTACT US
* 751mm Tire quantity based on 178mm wide tires
* 813mm Tire quantity based on 229mm wide tires
* 1118mm Tire quantity based on 279mm wide tires
Factors to Consider When Choosing a Tire Carousel
When choosing a tire carousel, there are several factors to consider, including the number of tires you need to store, the size of your shop, and your budget.
Choosing the Right Size
It's important to choose a tire carousel that fits your specific needs. Consider the number of tires you need to store and the amount of space you have available in your shop.
Choosing the Right Type
There are several types of tire carousels available on the market, each with its own features and benefits. Consider your specific needs and choose the type of carousel that best fits those needs.
Choosing the Right Manufacturer
When choosing a tire carousel, it's important to choose a reputable manufacturer with a proven track record of quality and reliability.
Installing and Maintaining Your Tire Carousel
Installation Process
The installation process for a tire carousel will vary depending on the specific type and model you choose. It's important to follow the manufacturer's instructions carefully to ensure proper installation.
Maintenance and Repair Tips
Regular maintenance is essential to keep your tire carousel functioning