Museum Collection Storage & Preservation Solutions
Museums are vital for the preservation of human history and culture. But with the number of collections increasing combined with a shrinking amount of real estate, it's becoming more difficult for museums to balance display, storage, and proper preservation techniques all at the same time. Here, we'll go over some of the best solutions for museum collection storage, exhibition, and preservation so you can focus more on your artifacts and less on building logistics. Click here to see more museum storage solutions.
Only an average of three to five percent of a museum's collection is displayed publicly—the other works have to be stored and preserved in climate-controlled spaces, which amount to a considerable cost. Simply building out more space, renovating, or leasing more off-site facilities isn't a sustainable option. That's why so many museums are focusing on innovative storage solutions that can be adapted to their changing needs and utilize their existing space effectively, rather than needing more of it. On top of that, valuable objects can be lost for years in the clutter or even damaged. Proper museum storage has to not only efficiently store these artifacts; it also needs to preserve them in perfect condition as well. Click here to learn more about preserving museum collections against the top 10 agents of deterioration.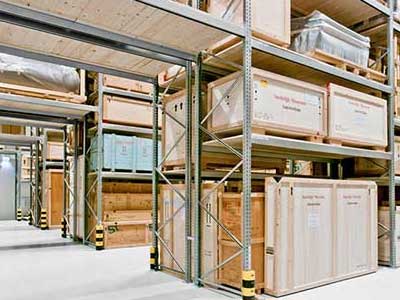 In addition to preservation, space savings, and organization, these museum storage solutions also have an open, clean, and professional look while maintaining optimal preservation and security. This is an especially critical factor when you consider how many museums are implementing visible storage as a way for visitors to view collections that aren't in exhibitions. Click here to learn how to store artwork properly.
High-Density Shelving
High-density storage systems are increasingly common in museums. These high-density systems consist of rows of storage units mounted on carriages that move back and forth via manual or automatic operation. This eliminates the need for multiple open aisles, which take up valuable space, and instead allows users to access the aisles they need while the rest remain compacted in a small footprint. While the systems' remarkably efficient use of space is one of its main benefits, they also contribute to preservation efforts and improve many other factors such as efficiency, safety, and engagement. This makes it a great solution for a museum's exhibit storage. Due to its flexibility and countless options, high-density systems can be designed around existing structural obstacles or can be outfitted for temperature-controlled rooms and refrigerators. You can even use your existing cabinets or shelving units by mounting them on the mobile carriages to save on costs. Click here to learn more about high-density shelving and its benefits.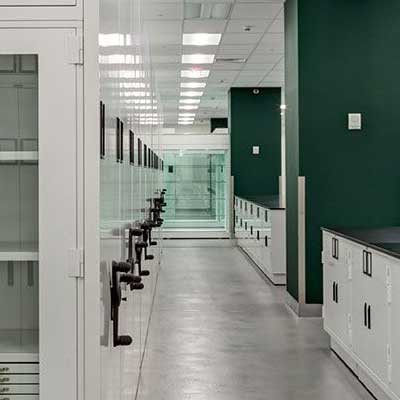 Artwork Storage
Framed paintings take up a lot of space because they cannot be stored on horizontal surfaces, especially with intact exhibition hardware. And you know that stacking paintings, even for just a moment, can cause irreversible damage. That's why we have so many artwork storage solutions that are designed to store artwork safely, even during transport or interim storage.
Some of our options for museums to store art are:
Buy pull-out art racks online
Buy wall-mounted art display panels online
Buy framed artwork shelving online
Buy storage & transport carts online
Artwork Storage
Historical clothing and accessories are important pieces of artifacts but are notoriously difficult and costly to maintain due to their fragility and susceptibility to damage from pests. These garment and textile storage solutions are designed to protect these items while ensuring easy and safe access in a small amount of space.
Here are some examples of our storage options for garments and textiles:
Buy sliding garment racks online
See more about automated garment carousels
See more about overhead garment lifts
Buy wire garment racks online
Buy steel garment racks online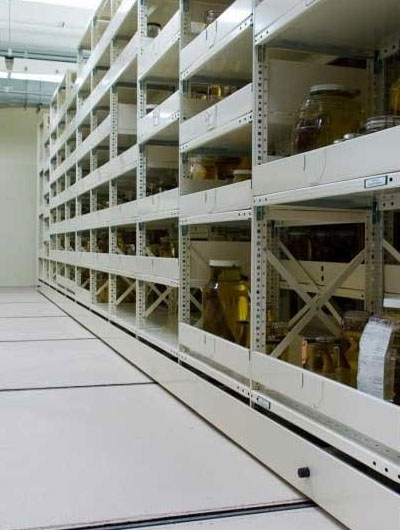 Southwest Solutions Group® provides design and installation services featuring the best solutions for museum collection, exhibition, and preservation across the country. If you're curious for more information about storage, check out our guide on designing museums and archival storage. We will also be happy to provide you with a free consultation to determine you and your museum's exact storage needs before the design process begins. For more information or to speak with a museum storage specialist, call us at 1-866-448-6071 or send us a message today.