KENWEI Automated Storage and Retrieval Systems for E-Commerce & Online Business
E-commerce must be able to store, distribute, redistribute and supply products in the most efficient manner, as well as manage returns. In large e-commerce warehouses, automation and intelligence should be the features of choice, requiring racks that are easy to use and compatible with the interoperability of control systems. KENWEI automated stereoscopic warehouses are the standard for many e-commerce warehouses, enabling efficient and accurate analysis and automatic sorting.
Benefits of Using Vertical Carousel ASRS System for E-Commerce Goods
The automated three-dimensional warehouse represents the highest level of e-commerce logistics warehousing technology. Through the three-dimensional warehouse equipment, the high-level rationalization of the warehouse, the automation of access and the simple operation can be realized, and it has the following advantages:
Practical operation of automation technology to improve work efficiency.
The vertical space of the warehouse is fully utilized, and the storage capacity per unit area is much larger than that of the traditional warehouse, which improves the space utilization rate.
Bind the warehousing time of each bill of materials, automatically realize the first-in first-out of materials, and adapt to changes in inventory and order quantity.
The three-dimensional warehouse management system is connected with the ERP system, and the whole process is automated to ensure accurate and timely inventory information.
Meet the storage environment requirements of different commodities (such as avoiding light, low temperature, moisture-proof), and ensure the quality and safety of goods.
Through barcode technology, etc., the flow of goods can be accurately tracked and the traceability of goods can be realized.
Efficient picking, streamlined workflow, and greatly reduced human resource costs.
Flexibility and scalability as your business grows and adapts to internal changes (whether in volume or variety of product lines).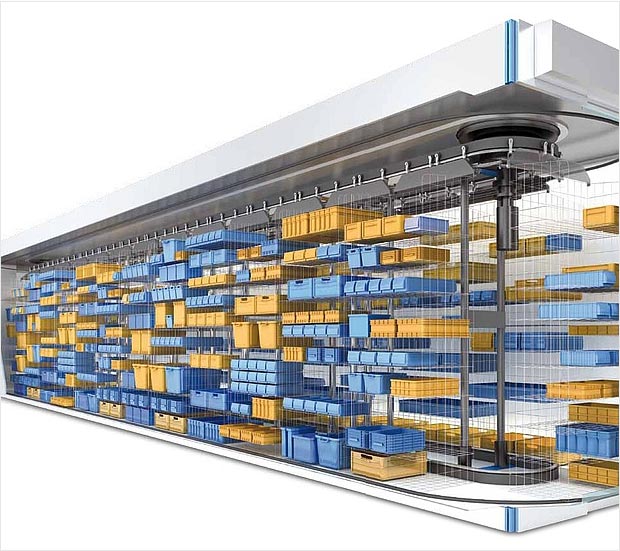 E-commerce Automated Storage Solutions – KENWEI Intelligent Storage Carousels
In large-scale e-commerce warehouses, in order to deliver goods quickly, accurately and efficiently, it is necessary to have shelf equipment that supports corresponding functions. KENWEI provides the most cost-effective but most economical personalized solutions according to your needs, including the integration of intelligent operating systems into various automated stereoscopic libraries:
Vertical Lift Module for Simultaneous Store and Pick
Our vertical lift carousel system can be seamlessly integrated into e-commerce Logistics' process infrastructure to ensure smooth and efficient operations. Different employees can use RIFD scanners to quickly confirm the placement and pickup of products by colleagues. This type of automated three-dimensional warehouse can be built with various trays and containers to match the storage of various e-commerce products such as food, beverages, medicine, and daily chemicals.
Indicator Carousels for Small Goods Storage
It is particularly well suited for the storage of hardware, small parts, and other small-sized goods. The parts are compactly stored on the well-organized multifunction containers, allowing for quick and effective goods retrieval from the storage area. The exact location of the material access makes it possible to finish the material access more quickly because it is the storage small goods that corresponds to the lit indicator light. To improve querying, traceability, and automatic inventory, the system will be recording the quantities of parts consumed and the locations of each storage unit automatically.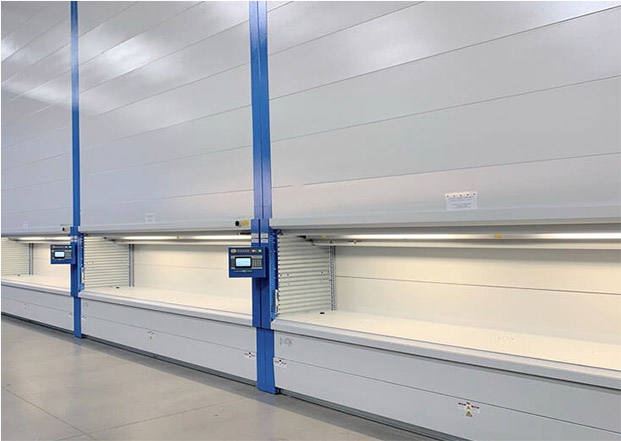 Smart Automated Medicine Cabinets for Pharmaceutical E-commerce
This Automated Pharmacy System can not only provide efficient distribution and storage of medicines for pharmaceutical e-commerce, but also be placed in nursing homes, hospital outpatient and wounded wards, and teaching hospitals as distribution centers for medicines and health care products.
Motorized Carousels for Large & Bulky Goods
can be used for storage of products sold online in almost any industry, especially large and bulky parts in construction and machinery industries, placed in e-commerce warehouses to provide fast order picking, accurate and safe . Different load-bearing pallets can be used in a unit mold meeting to ensure the flexibility and pertinence of inventory.
Automatic Layer Selection File Cabinets for E-commerce Documents & Samples
Our automated filing carouseld make for fast, efficient and route-optimized archiving processes for E-commerce compnay. Each product sample is guaranteed to have just one storage location in the archive system thanks to the barcode label on the folder. When a file is deleted from the system, the space becomes vacant and might be assigned to another product model.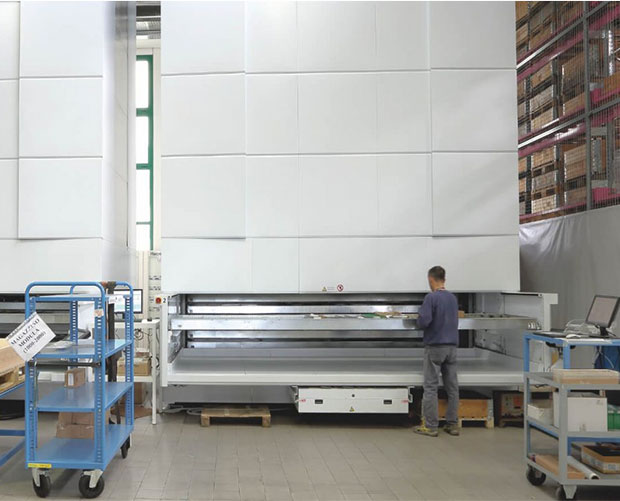 KENWEI is committed to specifying the best way to store and retrieve goods and implement scalable automation for each e-commerce customer to successfully address various challenges. In this way, you will exponentially improve order management, storage capacity and picking accuracy. Additionally, you can implement an automation solution that, in addition to being suitable for today's operations, can also adapt as your business grows.