Types of Filing Carousels
Folders by function
Folders by file type
Smart Vertical Carousel Filing Systems – Flexible RFID Filing Systems
KenWei Vertical Carousel Filing Systems are automatic storage and RFID filing system with rotating shelves; it is the ideal solution when it is necessary to work in limited spaces, with rapid consultation and operational ergonomics. Rotating shelves always follow the shortest route to present the operator with the material in the consultation area. Our Vertical Carousel File Storage System comes with intelligent management software, developed in-house by KenWei Automation Technology, guarantees the rapid identification of materials and documents, the easy administration of picking lists and access to the warehouse remotely.
What is Vertical Carousel Filing System?
Vertical Carousel Filing System (RFID Filing System) is ergonomic powered storage solution for files and mixed media, composed of intelligent file management software and automated carousel cabinet. The vertical carousel filing system can realize the closed-loop management of archives intelligent production, packing, racking, unloading, borrowing, returning, and destroying. At the same time, these processes are completely recorded in the system database, realizing the full life cycle management of archives. The functions that can be realized by the intelligent filing cabinet make the file management of institutions and enterprises easier and faster, greatly reduce the labor intensity of file management personnel, and improve work efficiency. By optimizing the existing storage space, clutter is reduced and material accessibility is improved.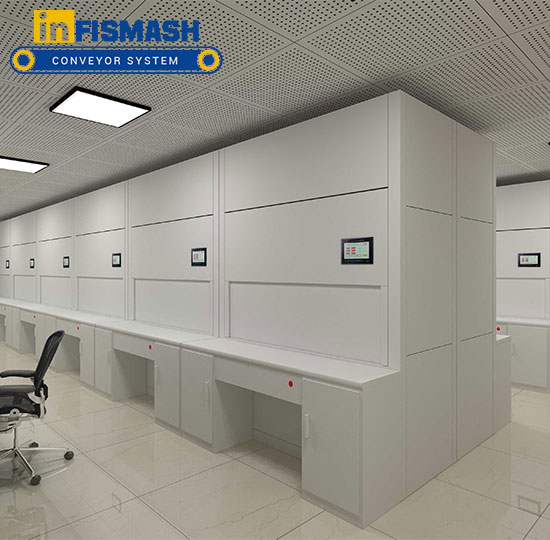 Features & Advantages of Vertical Carousel Filing System
Space saving – Release up to 80% floor space, optimizing space of your work places
Expand storage – Maximize storage spaces to double in an easy, agile and efficient way
Efficient – Short retrieval time, quickly and easily query the stored files
Orderly – Perfectly optimize all kinds of file management, simplify file storage and query
Safety – Closed system not only prevents dust and accidental damage, but also prevents file loss
Cost saving – Space saving is conducive to reducing the cost of rent, energy, operation, etc.
Ergonomic – Fully automated vertical carousel system greatly reduces physical activity
Application of Vertical Carousel File Cabinets
Document storage: files, bills, CDs, books, tapes, etc.
Use field: Departments of government organizations, various military departments, public security, prosecutors, courts, human resources and social security bureaus, education bureaus, industry and commerce, taxation, power companies, banks, hospitals, institutions of higher learning at all levels across the country, large and medium-sized enterprises and institutions, etc.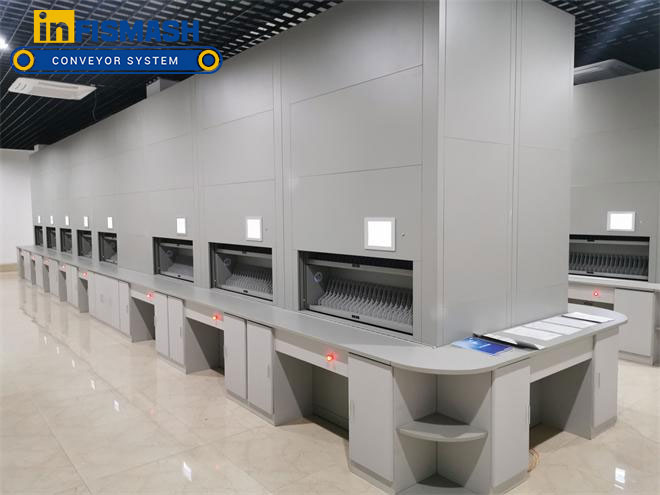 KenWei RFID Filing Systems – Vertical Carousel File Cabinets
To make the best use of your office space, to organize your documents, to protect your files, order KENWEI Vertical Carousel File Cabinets and RFID Filing Systems now! Our vertical file storage system is made up of a set of sliding modules on rails that allow the use of a single access aisle, doubling the filing capacity of traditional designs. It is ideal for optimizing space of your work places, to maximize storage spaces in an easy, agile and efficient way, with a modern style, giving rise to more jobs, recreation and rest areas, relaxed spaces and meeting points. Its interior equipment may vary according to customer needs. The movement is mechanical by means of an ergonomic crank, which ensures a smooth and easy sliding of one or several modules simultaneously.
Advantages of KenWei Vertical Carousel Filing System
Savings from 50% to 80% of space.
Cost-effective custom solution
Less search time.
Management by software.
Easy access.
Access control.
Drive handle under international safety standards.
Better organization of the file.
Free of mantenimient.
Durability of operation.
Great aesthetic adaptability.
Post-sale technical service.
Infinite solutions made to your specification
KenWei is a professional Vertical Carousel Filing System and file digital storage solution provider. Our flexible and intelligent automated vertical carousel file storage system has received unanimous praise from customers at home and abroad. Our self-developed automatic layer selection filing cabinets, RFID filing cabinets, and intelligent vertical file carousels are the perfect crystallization of scientific research and practical applications. If you are looking for a document management and storage solution with both cost and function effects, please contact us!