What are Miniload automatic storage and retrieval systems?
Storing products doesn't have to take up a lot of floor space – mini-loads enable faster and more reliable performance in a smaller space for storing cartons, totes and pallets. Designed in robust, lightweight alloys, as well as being modular and thoughtfully engineered, Miniload system are often used in combination with a mix of flow aisles and static shelving or racking.
What hardware and software does a Miniload consist of?
Miniload automated storage and retrieval systems are designed to automatically transport cartons, pallets and totes in and out of the warehouse and usually consist of a racking structure, a stacker crane, software to control the system and a pick-up station to bring items in or out.
To store and retrieve goods, the crane moves up and down the aisles between the storage racks and the load handling devices or pallets move up and down along the high mast of the crane to reach the correct racking height. Once the designated storage position is reached, the load handling unit on the crane uses a mechanism to pick up or store the load, depending on the task being completed. Once completed, the crane returns to the end of the aisle where the load is loaded for further processing or to pick up a new load.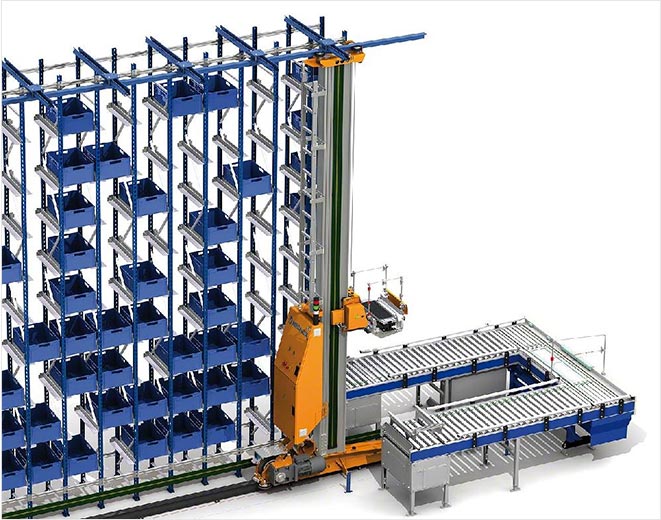 What scenarios can miniloads be used in?
Storage and buffering of raw materials, finished goods and WIP (work-in-process) stock Replenishment of stock for order fulfilment via picking modules or goods-to-person systems Secure storage of controlled items or substances
What are the features and benefits of Mini-loading?
Real-time inventory visibility – instant reporting for accurate inventory data.
High-density storage – space-saving design minimises footprint by maximising storage density and use of vertical space.
Easy to operate – user-friendly design allows new operators to be trained and work faster.
Secure product storage – controlled access to inventory reduces product damage, misplaced stock and inventory loss.
Workforce productivity – increase team efficiency by automating hazardous and repetitive storage tasks.
Energy management – designed to minimise power consumption and operate in lights-out environments.
Multiple load handling methods – the flexibility to choose what best suits your needs.
Why choose INFISMASH Miniload?
With so many options for automated storage systems, finding the ideal solution can be a challenge. INFISMASH experts have a wealth of knowledge and practical integration experience with a wide range of solutions and manufacturers. Here, you will be helped to find the right solution for automating your storage quickly and easily.