Rotary Labelling Machine
The rotary labelling machine is used to transport bottles or containers from the linear line to a circular, continuously rotating base or "turntable". Individual platforms are mounted around the perimeter, and each product is placed on the platform and held firmly in place with top clamps or "bells". By rotating, each platform also rotates accordingly so that the side of the product is correctly presented to the labeler. The product is labeled as it passes through, and is then usually wiped down for optimal wear. The platform then rotates again to present the other side of the product for the next label to be applied. The number of labeling heads required, the number of platforms required and the size of the turntable base are determined by the number of labels to be applied.
Rotary Labelling Machine operation process
The rotary labeling machine combines world-class product handling with technologically advanced servo-driven labeling and PLC control. This product decorating system is unmatched in accuracy, reliability and performance. This high-speed rotary labeling system features a variety of product positioning technologies, including programmable platforms, pin and lug positioning, and inflation of thin-walled containers. Synchronization of product from the infeed conveyor to the continuously moving platform is accomplished using worm gear separation and starwheel placement. Another starwheel collects the products and moves them from the platform back to the linear conveyor for continued packaging. There is usually a labeled product verification process and a rejection station immediately following.
Even if only front and back labels are required, a linear labeler can do the job, while a rotary labeler can be many times faster. For example, a typical linear labeler, such as the ALS 600, can reasonably label up to 10,000 products per hour, while a high-speed rotary labeler with the correct specifications can reach 60,000 without loss of labeling accuracy. This is without a doubt the best way to apply labels at high speed, with the highest accuracy and the ability to position the product without interruption so that the label is consistently applied to the mark, dot, dent, or other physical feature of the product design.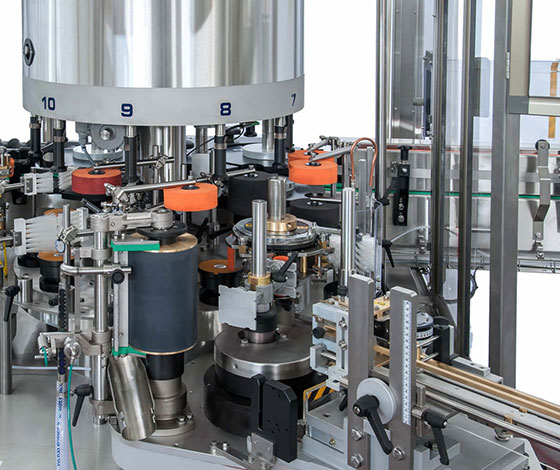 Rotary Labelling Machine applications
The world-class rotary labeling system is ideal for decorating the front, back, and neck of wine, champagne, or distilled spirits bottles. Features multiple product positioning methods, including pin and side lug positioning.
KENWEI Rotary Labelling Machine Value
Speed is not everything, as the challenges faced by brands to make themselves stand out lead to increasingly complex designs and dreams of new container shapes. Triangular bottles and other clever design concepts sometimes make labeling with in-line machines impossible or impractical, and only a rotary labeling machine with intelligent platform control can consistently present any side of a product to the labeller.