Chain Conveyors is a type of conveyor system for moving material through production lines. According to the shape of the chain, Types of chain conveyor include apron chain conveyor, drag chain conveyors,Multiplexing chain conveyor,and so on.
Application of Chain Conveyor
Mining
Food processing
Sewage treatment
Agriculture
Textile machinery
Car plants
Cement works
Material handling
Chain conveyer utilizes a powered continuous chain arrangement to carry a series of single pendants. The chain drive is driven by a motor to transport the materials suspended on the pendant. Chain conveyors are used to move products on assembly lines and/or around manufacturing or storage facilities.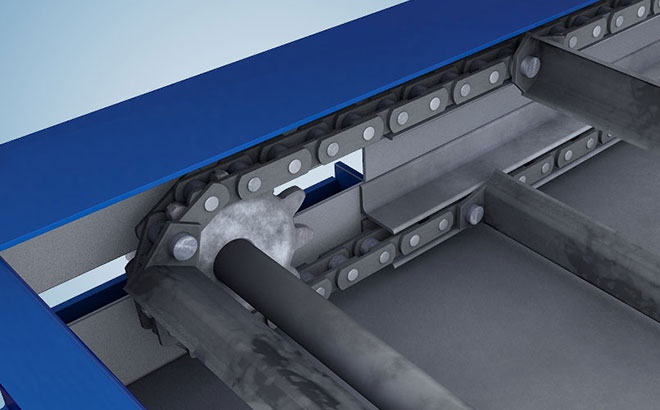 Chain conveyors are mainly used to transport heavy unit cargo, such as pallets, grid boxes and industrial containers. These conveyors can be in single-strand or double-strand configuration. The load is placed on the chain, and friction moves the load forward. The zipper conveyor is usually easy to install and requires very little maintenance for the user.
Types of Chain Conveyers
• Drag C onveyers
Drag chain conveyors, variously called drag chain conveyors, scraper chain conveyors and block conveyors, are used for the transportation of bulk materials to move solid materials along the trough. They are used to move materials such as cement clinker, ash, and sawdust in the mining and chemical industries, municipal solid waste incinerators, and pellet fuel production.
The difference between a scraper conveyor, a scraper conveyor and a flying plate conveyor largely depends on whether the chain link has an obvious flying plate or attached propeller. In the towed conveyor, the chain directly moves the material, while the flying conveyor uses a series of wood, metal or plastic fixed on the chain to fly to push the material along the trough.
• Advantages of DragConveyers
No filter needed
Low inert gas demand
Less noise
Less maintenance
less power consumption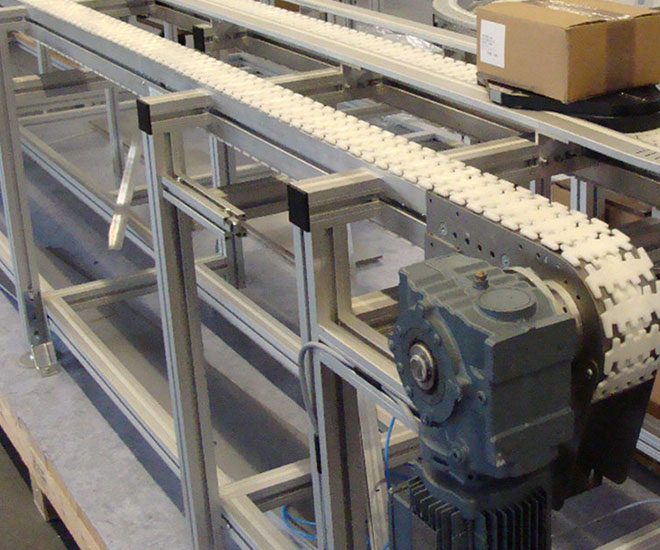 • Tube Chain Conveyor
Tube chain conveyor pulls the material in the pipe to move through the chain. It provides a convenient way for bulk materials to move from one location to another, and it can also be transported in multiple axial directions. Tubular chain conveyor is used for conveying, feeding, dosing, distribution and discharging
Tubular chain conveyor is a gentle, safe, dust-free and efficient material conveying method.
These systems are extremely durable and easy to adapt to the most challenging conditions.
• Merits of Tube Chain Conveyors
Tube chain is designed as a universal joint for product transportation in the pipeline, enabling a single conveyor to achieve multiple plane direction changes, including a 90-degree turn.
A unique feature of the tubular chain conveyor is the chain tension station, which continuously tensions the entire chain length in the product conveying path, while maintaining zero tension in the return path. This will help reduce the wear of the conveyor discs, chains and pipes.
The tubular chain conveyor system includes many accessories, such as brush assembly or chain link cleaning chain, lowering the bottom or sliding gate valve for immediate product discharge, or a steering station that replaces the 90° elbow to reduce wear of the disc and chain.
Can be used for carbon steel structures, stainless steel structures and in-situ cleaning systems for food and pharmaceutical applications.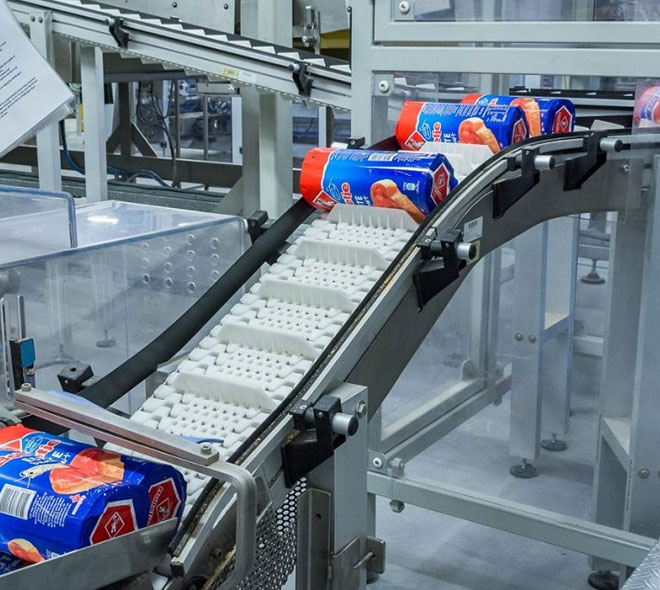 • Apron Conveyers
Apron conveyors is provided with a continuous carrying surface by an endless chain and additional overlapping and interlocking plates, forming a leak-proof bed suitable for bulk materials without containers.
The apron feeder, mainly used for one-time crushing and feeding of raw materials. This is generally a fixed apron feeder, which continuously and uniformly distributes various bulk materials from the storage bin along the horizontal line. Transport to crushers, conveyors or other equipment.
The plate feeder is suitable for materials or articles with sharp edges or strong wear resistance, and the density is not more than 2400 kg/m3. It can also be used to transport high temperature materials below 400°C.
The apron feeder can be driven to the left or right. Can transport materials horizontally or tilted 0≤a≤25°
• Advantages of Apron Conveyer
High traction chain strength
High bending strength, good impact resistance
Stable and reliable operation, low noise
Chute with overlapping arcs, effectively preventing material leakage
Fully enclosed, protective cover for easy dust discharge
Can be equipped with a brake device to prevent the transmission chain from reversing
Other Chain Conveyors
Plain chain conveyors,
Scraper chain conveyors,
Flight chain conveyors,
En-masse chain conveyors