High standard powder coating system
KW Finishing Systems focuses on the supply of high-performance powder coatings-powder coating booths curing ovens and related equipment, as a powder coating system manufacturers, we have the most advanced production lines, made of high-quality household steel. Experts provide one-stop powder coating system solutions. KW has dedicated engineers and rich production lines. Please contact us immediately before deciding on the equipment. Our experienced team of experts will help you find the most suitable powder coating equipment for your surface treatment needs.
Product list 
KW's main products can include automatic coating system equipment, electrostatic spraying machine, electrostatic spray gun, automatic elevator, multi-axis reciprocating machine, quick-change toner room, powder recovery equipment, large cyclone recovery device, Multifunctional powder booths, spray booths, telescopic spray booth, pretreatment equipment, pre-spray treatment equipment, biological particle burners, natural gas burners, electric heating furnaces, curing drying channels, coating conveying equipment, etc.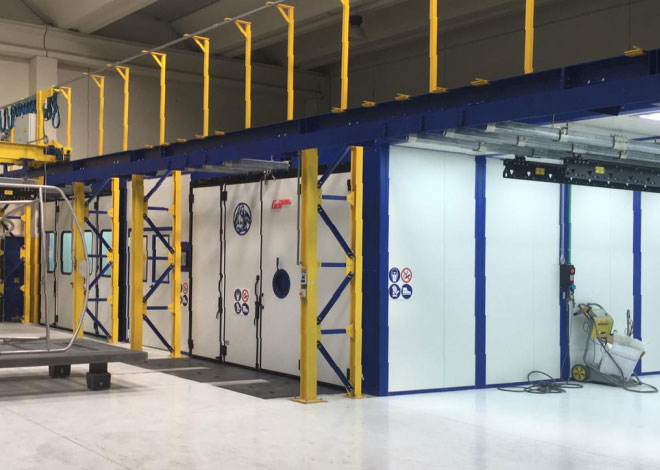 Powder coating spraying production line
Powder spray booth, powder recovery system, curing furnace, heat source system, conveyor chain, etc. The powder spraying booth adopts the popular pp board powder spray booth on the market, which has a better electrostatic effect. The powder recovery system adopts a cyclone dust collector to recover the powder. The volume recovery rate is over 95%. The curing box adopts hot air circulation and gas heating methods.
KW curing furnace can save fuel and save your production. The curing furnace insulation board is a plug-in board, seamless butt, and thermal bridge transfer technology. KW provides independent equipment for pretreatment systems, powder coating systems, single and multiple rapid color change systems, curing systems, powder recovery systems, and conveyor lines. All systems are widely used in automobiles, office and household appliances, and machinery industries. Metal manufacturing and other fields.
Looking for a powder coating equipment package?
Please check our options below to learn more about how we can meet your powder coating equipment, surface treatment, and curing needs.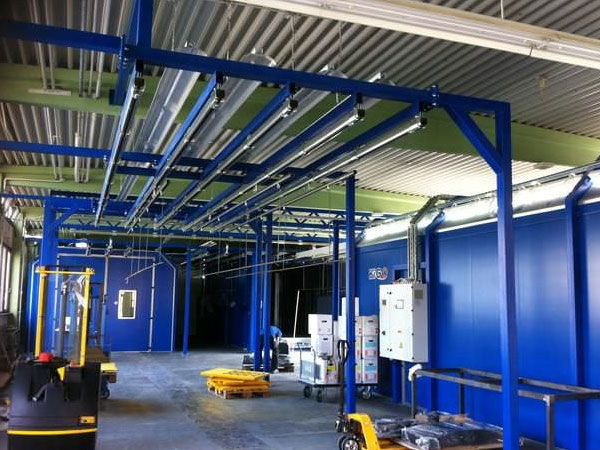 Our Most Popular Products & Services
Electric Powder Coating Ovens
Our powder coating oven adopts an energy-saving design, which can quickly provide a uniform temperature for curing. The fully modular design will have a variety of configurations, including rear or side-mounted heating units, top-mounted heating units, tunnel type with double doorways or commodity openings, and more
Our powder coating oven is ideal for small parts and can effectively use the space on the floor. It is very suitable for brand new powder coating business, wheel and bicycle frame coating machines, fishing lures and small parts manufacturers, test laboratory applications, product prototyping, and schools.
Multi-Stage Parts Washers
Part cleaners, conclusion cleaners, and our "multi-stage parts cleaner" will always provide you with any squeaky clean parts needed for durable, defect-free powder coating finishes. We provide stainless and stainless polycrystalline hybrid systems that perfectly combine the environment and heating stage.
Powder paint booth
Our powder spray booth is specially designed for powder coating, not suitable for wet spray booth design. They provide maximum airflow and good lighting and can be configured for powder recycling or spray waste applications. Our booth keeps the work area tidy and provides you with the most effective decoration.
powder recycling system
The main recycling methods for powder coating include filter cartridge recovery and large cyclone, small cyclone combination. By improving the recycling system, a more efficient and clean coating can be achieved.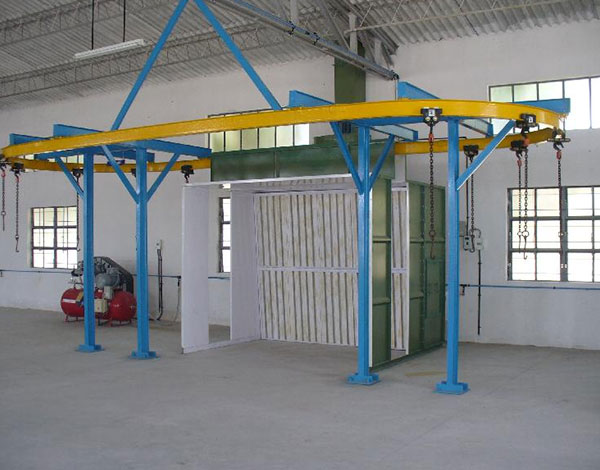 Manual Wash Enclosures
Manual Wash and Pretreatment Enclosures help provide an inexpensive option to traditional multi-stage wash tunnels. As the majority of our equipment, these enclosures are often customizable for the treatment and cleaning of any size part. Common sizes are for sale to use with a couple of operators.
Spray Walls
Powder must be applied, but is there not enough space on the floor? Our powder-coated wall plenum has a compact "spray-to-waste" design with maximum airflow. Our optional three-stage filter includes a true HEPA final filter, which can provide you with the cleanest workshop atmosphere. Get a smaller footprint and airflow required for professional-grade filtration at an unparalleled cost.
Automated Finishing Systems
Our automatic powder coating production line can be created according to your requirements. We provide multi-stage cleaning machines, manual or automatic sandblasting, forced air drying ovens, manual or automatic powder spray booths, infrared and convection curing ovens, and passive or active cooling stations. In addition to floor-mounted rail systems, we also provide chain and electric overhead monorail conveyors.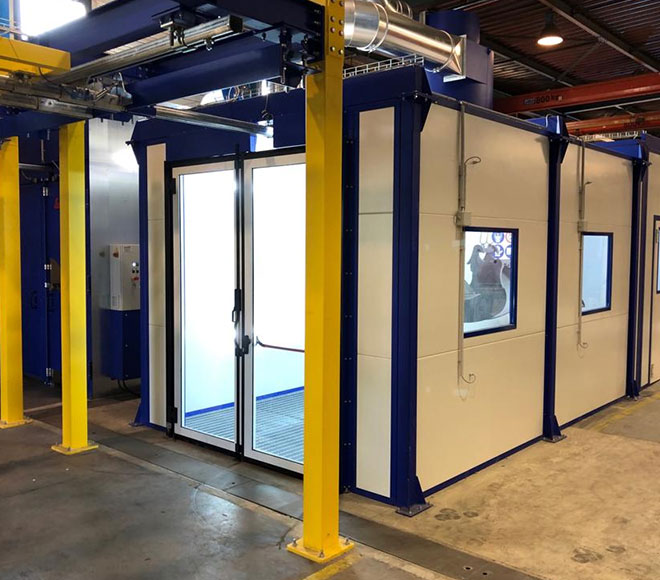 Powder Coating Guns
Do you need a powder spray gun or a complete spray system? In addition to providing automatic spray gun systems at unbeatable prices, we also provide manual (handheld) spray guns for a given boxed hopper. We provide professional quality guns.
The automatic powder supply center
The main powder supply box of the automatic dust removal device is suspended on the bracket by 1 to 3 load cells, and a rotary powder feeder is arranged below, and the load cell is connected with the main controller cable. A powder supply box is arranged between the air compressor and the main powder supply box for storing plastic powder.
Custom Coating Equipment
Do you need custom coating equipment? KW provides a series of fully or partially customized equipment to meet your needs. We provide solutions for all types of aerospace and industrial coating processes and composite curing applications. Just need a special size booth or oven? no problem! Our modular design makes customization fast and economical.
Installation & Service
Our expertise is provided by experienced factory-approved technicians. KW provides on-site inspections, production line audits, and conversations to complete the turnkey installation of KW equipment. KW provides emergency on-site maintenance, regular product maintenance, and a series of training courses.