Overhead conveyor
Each electric overhead conveyors includes:
A continuous chain runs through the circuit and various vertical and horizontal curves.
A drive unit that grabs the chain and pulls it across the track.
A tightening device ensures that the chain is always tensioned, even after years of use.
The electrical control can be as simple as an on/off motor starter, variable speed controller, industrial-grade programmable logic controller, or even a PC or host system.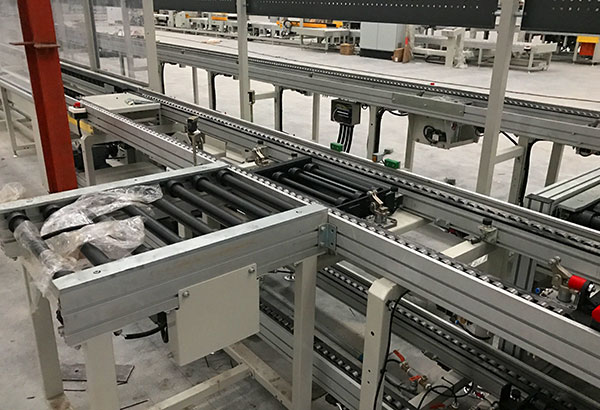 Single-plate conveyor
Single-plate conveyors with attachments (claws) to move the cart along the assembly line. Multi-strand chains have many uses, from moving palletized goods to carrier boards on assembly lines to transporting long products such as pipes, tubing, rolled products, or wood. Moving 50′ long products onto the saw line is an ideal application for multi-strand chain conveyors.
Double-plate chain conveyor
Double-plate chain conveyors can meet different material conveying purposes. The double chain conveyors are composed of durable and sustainable belts that can withstand heavy use and are equipped with an expandable and adjustable endless belt. The double-chain conveyors are made of sturdy material, which can improve the durability of the product for many years, and can resist various shocks, loads, abrasion, etc. The double-chain conveyors are ideal for high-speed performance and are bidirectional, helping to sort products at the same time. This. The double-chain conveyors use environmental protection technology and advanced mechanisms to reduce noise.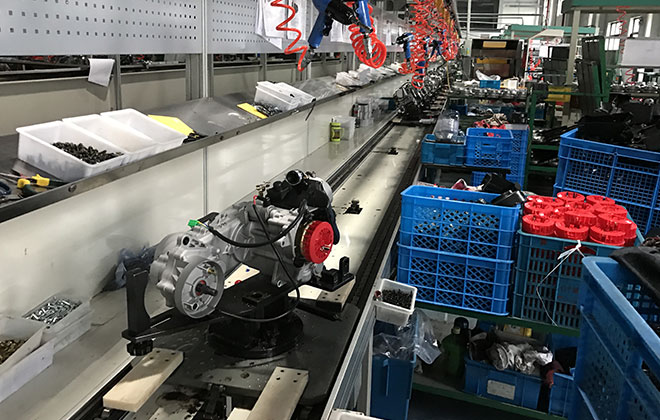 Tricycle Automatic Assembly Line
Tricycle automatic assembly line consists of plate chain automatic conveying line, tooling fixture, overhead light, airway, chute, hook, fan, etc. The front end is equipped with a reversing frame line and a suspension conveyor line next to the assignable equipment. This assembly line is the most common assembly line and can also be used for the assembly production of other electric vehicles, such as the assembly of scooters, assembly of electric bicycles.
Motorcycle Automatic Assembly Line
Motorcycle assembly lines include a set of motorcycle pre-assembly lines, motorcycle main production assembly lines, pre-assembly parts loading lifters, air compression systems, assembly tools, transfer trolleys, inspection lines, paint booths, paint dry lights, tools and etc.
A motorcycle automatic assembly line is a series of workers and machines, each performing a specific set of tasks on the product to bring it closer to the finished form. Parts are delivered step by step according to the process. This reduces the hassle for workers' direct manual transfer or product turnaround and can increase production efficiency. The benefit of using this assembly line in motorcycle production is that it allows workers to specialize in specific assemblies, thus improving operational stability and allowing for increased productivity.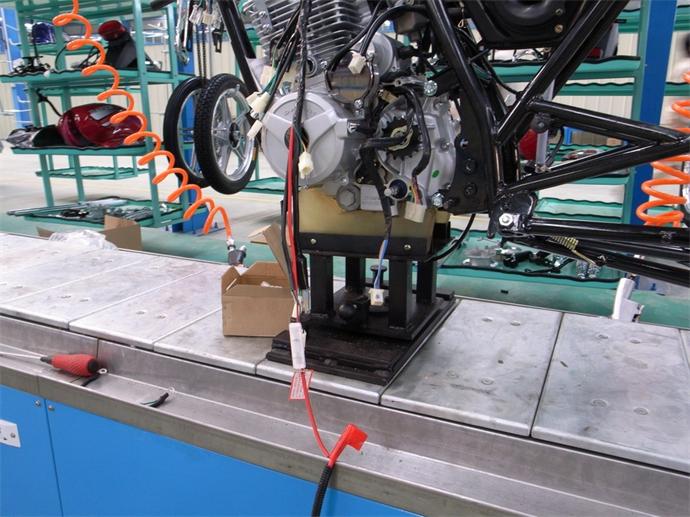 Advantages of Conveyor
The conveyor can assemble electric bikes, scooters, motorcycles, tricycles, human-powered saws, etc. The conveyor moves automatically with adjustable speed and all control components are made of Chinese brand names and foreign brands. It has the following advantages.
Smooth surface in a motorcycle assembly line, small debris, smooth transportation of products in the production line, can transport all kinds of cars, motorcycles, tricycles, scooters, bicycles, also can transport all kinds of air conditioners, computers, refrigerators, glass bottles, PET bottles, Pop, etc.
The material of the chain plate can be galvanized or stainless steel and engineering plastic, etc., with various specifications, which can be selected according to the products and process flow to meet different needs.
The layout of the conveyor equipment is flexible and hierarchical. Can be completed in a conveying line inclined, turning to convey.
The assembly conveyor equipment has a simple structure, smooth movement, and easy maintenance.