Forklift, tricycle, electric motorcycle, ATV assembly line (conveyor)
It is usually a combination of conveying equipment and special aircraft, overhead conveyors lines, single-plate chain conveyor lines, and double-plate chain conveyor lines to place the equipment on the ground or make it flush with the ground. Equipment, air pipes, and quick-insertion nozzles, fans, work guide bookshelves, department workbenches, multi-function sockets, upper and lower steel wire anti-skid plates, etc.
Overhead conveyor
Each electric overhead conveyors includes:
A continuous chain runs through the circuit and various vertical and horizontal curves.
A drive unit that grabs the chain and pulls it across the track.
The take-up device ensures that the chain is always tight, even after many years of use.
Electrical controls can be simple on/off motor starters, variable speed controllers, industrial-grade programmable logic controllers, and even PC or host systems.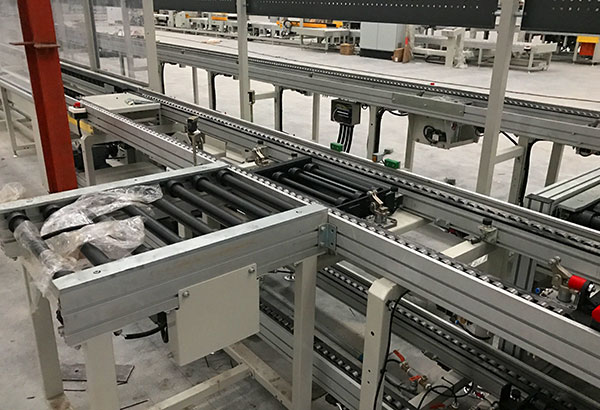 Single-plate conveyor
Single-plate conveyors with attachments (claws) to move the cart along the assembly line. Multi-strand chains have many uses, from moving palletized goods to carrier boards on assembly lines to transporting long products such as pipes, tubing, rolled products, or wood. Moving 50′ long products onto the saw line is an ideal application for multi-strand chain conveyors.
Double-plate chain conveyor
Double-plate chain conveyors can meet different material conveying purposes. The double chain conveyors are composed of durable and sustainable belts that can withstand heavy use and are equipped with an expandable and adjustable endless belt. The double-chain conveyors are made of sturdy material, which can improve the durability of the product for many years, and can resist various shocks, loads, abrasion, etc. The double-chain conveyors are ideal for high-speed performance and are bidirectional, helping to sort products at the same time. This. The double-chain conveyors use environmental protection technology and advanced mechanisms to reduce noise.