Overhead Conveyors Systemsare are mounted from ceilings that use trolleys or carriers moved by chains, cables, or similar connections. They use the idle space above their heads on the ground to achieve transportation through an endless chain loop that rotates on a rigid track, or a straight line of trams. Operators known as movers are connected to the chain/trolley and are responsible for moving materials, moving or moving items pulled by motors for transportation. Ceiling conveyors are easy to implement in most factories because their initial design is to bypass complex twisting and rotating ground machines. They are energy-efficient and those with available power are better than most other types of conveyor belts if they are powered. They are a great choice for content that cannot be communicated in other ways.
An overhead conveyor is generally used in a production facility to move goods from one location to another. They take advantage of the basically unused vertical space above the working zone. Using curved sections or even with elevators, they bring parts down to the level of operators and back up to higher elevations. Overhead conveyors can pass through production zone that humans can't like through ovens and robotic work cells.
Types of Overhead Conveyor Systems
enclosed track overhead conveyor
I-Beam monorail trolley overhead conveyor
power and free overhead conveyor
Overhead Track System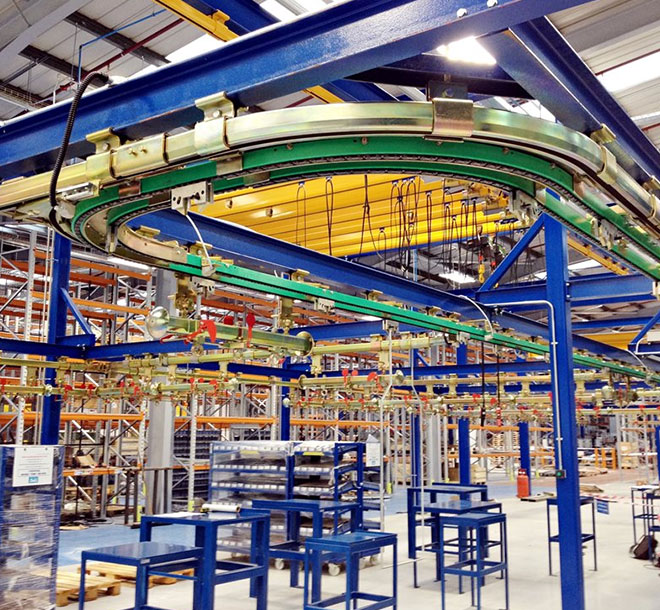 Application Fields of Overhead Conveyor System
Investment castingprocessing
Fruit and vegetable packaging.
Wood work industry.
Entertainment Industry Conveyors
Creative Display Conveyors
Trash Handling Conveyors
Garment Handling Systems
Overhead conveyers can move almost any type of raw material, and are only constrained by their mechanical performance and driving limitations. Overhead conveyers areespecially useful for painted parts and are common in the automotive industry, but please note that these conveyors are used for most assembly lines.
Overhead conveyors are basically used in material handling applicationsfield where the commodity needs to be hung, for example, parts handling systems, dry-cleaning garment lines, or paint lines, or for curing and cooling. Different types of overhead conveyer systems structure are available including trolley,electric track, monorail, as well as ramped or inclined. Depending on the application, the load-carrying capacity may be pivotal. Most overhead conveyers systems are controlled and powered, while others are hand-operated conveyor belts.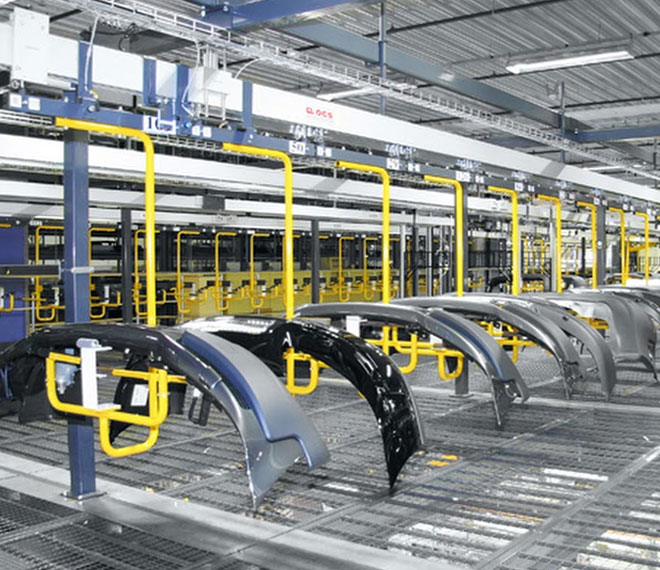 Benefits of Overhead Conveyer Systems
Much Safer. Heavy, challenging or fast-moving loads can bypass the dangerous caused by improperly using conveyer belts. Overhead conveyor systems are efficient, clean, and centralized, decreasing the possibility of injury caused by moving a single load by hand.
Fit Perfectly. There are currently more than 20 major overhead conveyor styles on the market, and manufacturers can find conveyor systems that suit their needs. Since most conveyor systems are composed of modular components, they can be adapted to most tasks and functions, and substitution parts can be easily purchased when needed.
Save Space. Thanks to Overhead Conveyer is suspended from the ceiling of the facility, the overhead conveyor allows staffs to move more freely throughout the process. It also creates space for other basic functions (for storage to quality testing).
Improve Efficiency. Since the overhead conveyor systems can convey componets and products in anytime and anywhere without manual guidance, it can also ensure that the company's staffs can focus on the task at hand without being interrepted. Therefor, it can improve the efficiency of the whole workshop.
Compared with traditional alternative products (such as belt conveyors), overhead conveyors have a wide range of advantages. They are economical and efficient, enabling users to streamline production processes, better protect the workforce and utilize the entire work zone.