Heavy Duty Overhead Conveyors, Single-point lifting weight within the range of 100-1000kg is classified as a heavy suspension conveyor. Heavy Duty overhead Conveyors with an I- Beam, called I-Beam Monorail Trolley Conveyors. 
Heavy Duty Overhead Conveyorsare suitable for heavy-duty conveyors with extremely heavy loads and harsh working environments. As we all know, we always provide the right conveyor for the application, and we design the equipment together with our customers to specifically meet the requirements of the job. We have been designing and manufacturing various heavy conveyors and related equipment.
Features of I-Beam Monorail Trolley Conveyors
Suitable for X348, X458 and X678 conveyor track height
Durable forged chain and trolley
Comply with industry standards, so components are usually interchangeable with many other manufacturers.
The welding feels firm and has a long service life
The drop forged, rivetless chain is very flexible and does not require tool settings.
Open track and chain design, all components are public and visible
A trolley connected by a forged rivet-free chain travels on an I-steel monorail overhead conveyor. Each trolley has a connection point from which a truck can be hung. A variable speed drive unit grabs and moves the chain, thereby connecting the trolley; the suspension moves synchronously, stops and starts at the same time, and moves at the same speed.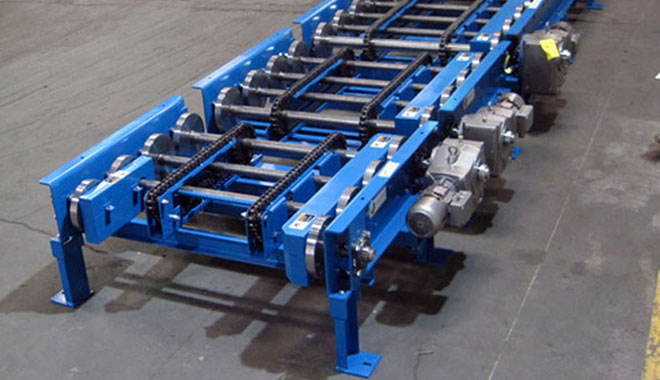 In the I-Beam monorail conveyor, the conveyor chain is installed on the I-Beam track. These conveyor belts are durable and cost-effective. They are made of heavy forged chains and trolleys. These trolleys can carry heavy parts over long distances.
Applications of Heavy Duty Conveyors
The wood industry
The Construction industry
The food industry
The metallurgical industry
The pharmaceutical industry
The mining industry
Logistics
Paint line conveying/paint line conveying system.
Store products online.
Transport livestock throughout.
Electrophoresis line.
Spray pipes.
Powder coating.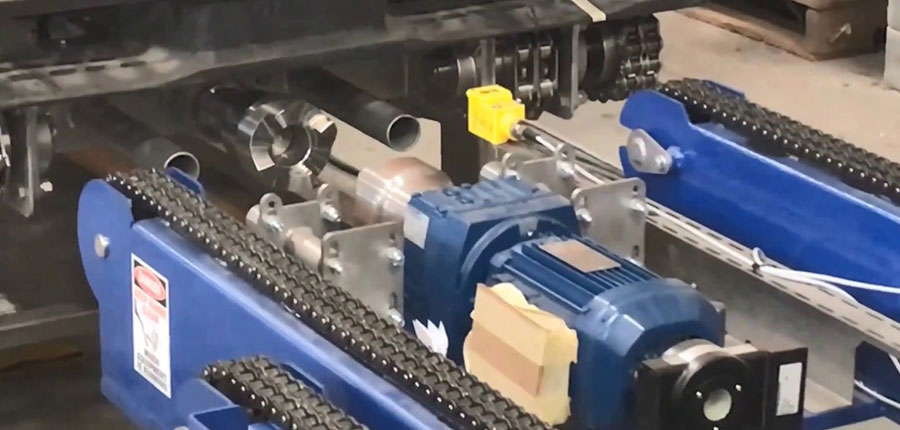 The high capacity and great durability of the I-beam monorail overhead conveyor allows it to be probably the most commonly used conveyor industry setting line. It is equipped with a carrier, at an ergonomic height, which is convenient to use from the side at work. Adjust the variable speed control to produce at the appropriate speed with the speed of the motorized part. Add an optional "index" control if you want to slowly move the conveyor belt to a preset distance between the lines to stop.
Advantages of Heavy Duty Conveyors
Heavy conveyor has the advantages of large transmission, simple structure, convenient maintenance, low cost, strong versatility and so on. It is widely used in metallurgy, mining, coal, port, power station, building materials, chemical industry, light industry, petroleum and other industriesbulk materials and packaged items. According to the requirements of the conveying process, single conveyor, or multiple or with other conveyor to form a horizontal or inclined conveying system.
I-Beam Monorail Trolley Conveyors, Use corrosion-resistant and heat-resistant I-beam conveyors to manipulate products through chemical cleaning and curing ovens. The overhead conveyor can incorporate the effective inclination line of descent and inclination, it is a useful spray chamber, which is accessible from the side of the method.
High quality drop forged rivetless chain with high strength-to-weight ratio
High-strength rib steel bracket attached to the wheel
Protection against anti-running and reverse running
Special lubrication system for rollers
Applicable temperature up to 260 degrees Celsius
Modular design, easy to install and configure
Quiet operation, clean, easy maintenance
Other Heavy Duty Conveyors
Heavy Duty plate conveyor
Heavy duty belt conveyor
Heavy duty chain conveyor
Heavy duty roller conveyor