KenWei Bottle Labeling Machines – Manual, Semi-Auto, Automatic Bottle Labelers
Welcome to the KenWei's section of our powerful bottle labeling machines. We've selected some of the best examples to show you our labeling machines in action. Nothing is easier to use, configure or maintain than a smart bottle labeling system. See how KenWEI bottle label machines mark round bottles, square jugs, rectangular containers, conical jars and buckets, flat bags and trays of all sizes. Our bottle label applicators can label almost any type of container, plastic, glass, metal or whatever. No matter what type of bottle container you have, it can be labeled by a our round flat labeling machines.
Features of Bottle Labeling Machines
S-type curve labeling, drum labeling at the same time. Accuracy reaches plus or minus 0.5 and 1mm, high precision.
Both operation with full or empty bottles is available.
The whole machine uses stainless steel material and electronic control system of famous brands (USA, Europe, Japan etc.)
Special re-adjustment device with exclusive patent that ensures that the labels of each bottle are flat, that there are no losses, no wrinkles after labeling.
Flat liner labeling, optional two-stage reset device, smart design and easy to change bottles.
Bottle Labeling Machine Application
Round bottles come in various shapes, sizes and materials. Our wrap-around bottle label machines can be customized for high-speed labeling with orientation and printing options.
Generally used for bottles of mineral water, milk, soy milk, yogurt of PET, PVC, PE, HDPE with labeling around with OPP net, low cost and more than 30% saving compared to thermal shrink labels.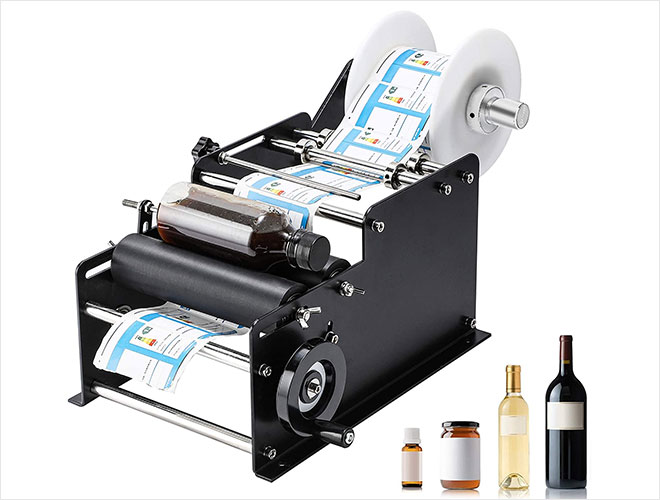 Bottle Labeling Machine Working Principle
Fully Automatic Round Bottle Labeling Machines: The sensor of the labeling machine detects the passing of the product, and transmits the signal to the labeling control system. The control system controls the motor to send out the label in the appropriate position and attach it to the product to be labeled. When the product flows through the labeling device, the labeling belt drives the product to rotate, the label is rolled, and the attachment of a label is completed.
Semi-Automatic Bottle Pasting Labeling Machines: The equipment receives the signal that the product is placed in place, and automatically separates a label. After the label is glued, it is affixed to the designated position of the product. Label, the label is pasted and covered on the product.
Manual Bottle Labeling Machines: The worker puts the bottle in the labeling position, turns the hand wheel, sends out the label and drives the bottle to rotate, so as to realize labeling and over-labeling.
Here we provide high quality manual, semi-automatic, automatic bottle labelers accurately and efficiently apply front, front and back labels, as well as multi-panel labels and even full-package labels to a wide range of bottle container types and materials. In particular, it labels glass, plastic, metal and paper bottles, pitchers, bins and square, rectangular and oval containers.