China Integrated Stove Convey Manufacturer – Buy Cheap Integrated Stove Conveyor
Do you require a stove conveyor that complies with the most stringent operating safety requirements? You are at the right place! Infismash provides you with the ideal products for the job. Since we have extensive experience in the design of stove conveyor system, we can supply various types of standard and custom-designed affordable integrated stove conveyors including integrated stove pallet conveyors and integrated stove chain conveyors for manufacturing, warehousing and distribution operations. Our sturdy integrated stove conveyor systems, which are available as stand-alone equipment or as part of a fully integrated material handling system, are designed to provide years of dependable, high-performance operation. When we designed our standardised modular-based system, we paid close attention to every small detail to ensure that the levels of operational safety is high and that your goods are carried safely. Our integrated stove conveyors also outlast the competition in terms of service life.
Types Of Integrated Stove Conveyors Wholesale
1. Integrated stove pallet conveyors
Features and advantages of integrated stove pallet conveyors:
The integrated stove pallet conveyors use the chain as the traction and carrier to transport the material. The chain can adopt the ordinary sleeve roller conveyor chain, and other various special chains can also be used.
The integrated stove pallet conveyors have large conveying capacity and can carry large loads.
The integrated stove pallet conveyors conveying speed is accurate and stable, which can ensure accurate synchronous conveying.
The integrated stove pallet conveyors are easy to realize the accumulation and transportation and can be used as an assembly production line or as a storage and transportation of materials.
The integrated stove pallet conveyors can work under various harsh environments (high temperature, dust) with reliable performance.
A. Pallet conveyors for sale are made of special aluminum profiles, which is easy to install;
B. Pallet conveyors have beautiful structure and low practical noise;
C. Pallet conveyors are multifunctional and have a high degree of automation.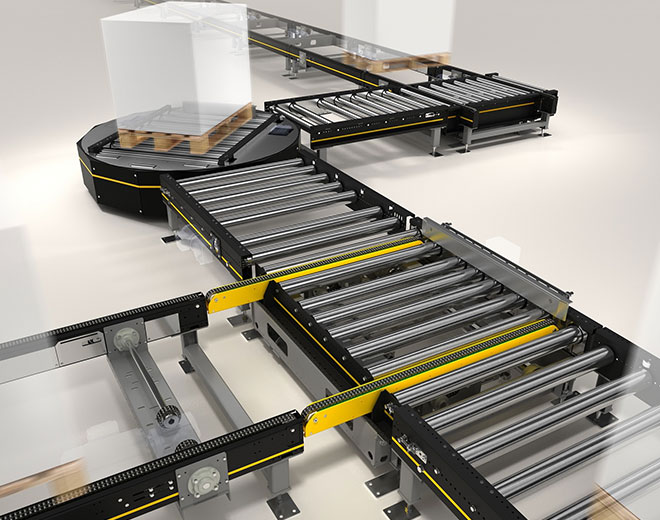 2. Integrated Stove Chain Conveyors
Advantages of the chain conveyor line:
Integrated stove chain conveyors are used as the traction component, which not only has high strength, high efficiency, reliable work but also can be transported as a long distance and has a large conveying capacity.
The traction chain can be equipped with accessories of various structures to meet different conveying requirements for different materials and realize various continuous processes. The transmission wiring is flexible with the shifter, which is unmatched by other types of conveyors.
The integrated stove chain conveyors compared with belt conveyors, the supporting conveyor can transport materials under conditions of large inclination and small bending radius. – The angle of the slab conveyor can reach 30-35°, and the bending radius is generally about 3m-5m
The integrated stove chain conveyors is suitable for a wide range of applications in silo/storage plants and processing industries.
he chain conveyor line can transport higher temperature materials. It can also adapt to more demanding conditions, such as heavy logs, sharp ore, and harmful chemicals.
Plate chain open loop control: PLC output to the board chain line converter DC0-10V signal and the set speed into a linear relationship.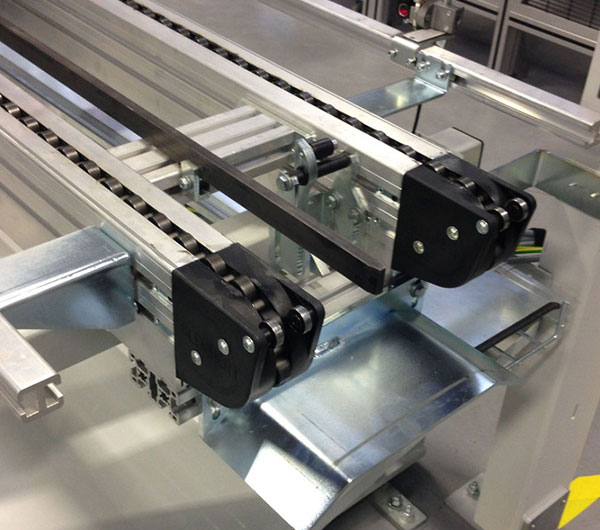 Why Choose Infismash?
Outstanding Technology: Our customers benefit from our proven integrated stove conveyors technologies and broad, ever-evolving product portfolio, which, when combined with our cutting-edge software solutions, ensures a stable, future-proof system.
Tailored Solutions: We tailor our integrated stove conveyors solutions to meet the unique requirements of your company. The final solution will be in line with your manufacturing requirements thanks to our extensive experience and market information.
Projects Delivered Professionally: Our multi-skilled, professional, and experienced engineering team will clearly identify your business requirements, define the correct integrated stove conveyors solution for you, and offer an industry-leading, high-performing solution
Customer Service & Aftercare: You are in safe hands. Following the completion of a project, our services do not end. To help you keep the value of your system, we offer a variety of after-sales and maintenance solutions.
Extensive Experience: With more than a decade of experience supplying integrated stove chain conveyors and integrated stove pallet conveyors, we can provide you with the knowledge you need to get the most out of your pallet conveyor system. For a free site visit, please contact us immediately.