KENWEI Flat Labeling Machines – Manual, Semi-Auto, Automatic Labelers For Flat Surface
KENWEI offers a complete range of flat labeling equipment, from packaging labels after printing to installation on all your media. Our flat labeling machines will allow you to optimize your production system, customize your products while guaranteeing quality and safety.
Quality Flat Label Applicators For Efficient Marking
The flat surface labeller, whether manual or electronic, offers maneuverability for professional use. Our self-adhesive label dispensers are indeed lightweight and can be used with one hand.
Manual, electronic or semi-automatic, our range of flat labeling machines feature a high-performance dispensing speed that allows you to quickly attach labels to hundreds of items. Prices, product information, barcodes, DLC and DLUO, promotional offers, logo: stick your labels on the packaging or directly on your products.
Flat labeling Machine Workflow Introduction:
Core working principle: The sensor of the flat labeling machine detects the passing of the product, and sends back a signal to the labeling control system. In the appropriate position, the control system controls the motor to send out the label and attach it to the position to be labeled on the product, and the product flows through the labeling device , The label is rolled, and the attachment of a label is completed;
Operation process: put product -> product delivery (equipment automatic operation) -> labeling (equipment automatic operation) -> collect labeled products.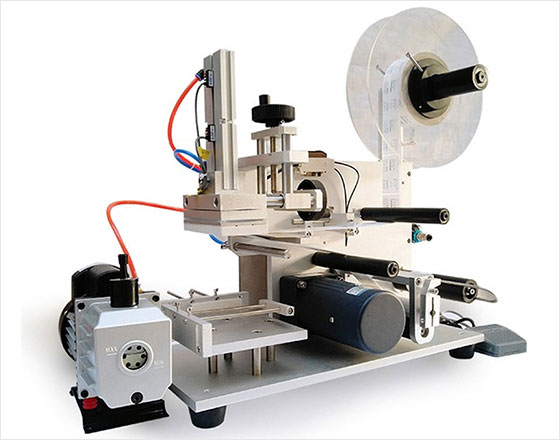 Features of Flat Labeling Machines:
The equipment is mainly made of stainless steel and high-grade aluminum alloy, and the overall structure is beautiful and firm;
The micro-mechanical structure design takes up less space, and the flat labeling equipment is very convenient to install and move in the assembly line;
Adopting product-oriented gap elimination and label anti-offset technology, labeling positioning accuracy is as high as ±0.5mm;
The labeling stability is good, flat, wrinkle-free, and bubble-free, which can meet the labeling requirements of most products on flat and large arc surfaces;
The ingenious design of mechanical adjustment part structured combination and label winding;
The degree of freedom of labeling position can be fine-tuned (fixed after adjustment), which makes the conversion between different products and label winding simple and time-saving;
It has the functions of nothing, no labeling, automatic correction and automatic detection;
It adopts standard PLC+touch screen+stepping motor+standard sensor electric control system control, high safety factor, perfect fault handling prompt function, operation teaching function; easy to use and simple to maintain.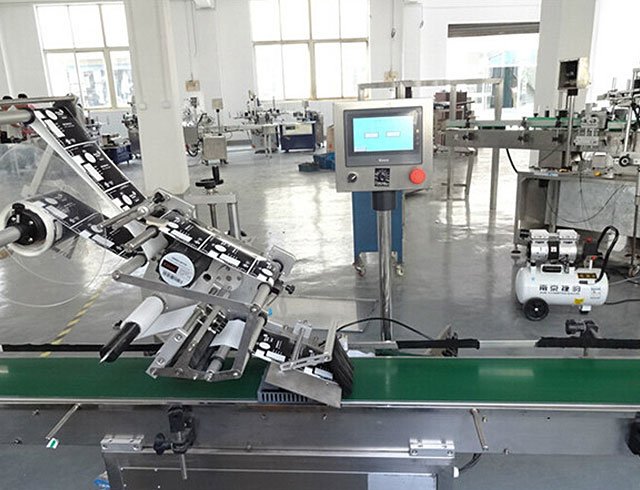 Application of Flat Labeling Machines:
Applicable labels: self-adhesive labels, self-adhesive films, electronic supervision codes, barcodes, etc.;
Applicable surface: flat surface, top surface, multi-label, large arc surface with label or film;
Application products: box labeling, plastic box labeling, book labeling, square bottle labeling, blister box labeling, electronic accessories labeling, etc.;
Application industry: widely used in daily chemicals, toys, medicine, electronics, food, hardware, plastics and other industries.