KENWEI Motorized Carousels – Smart Automated Vertical Storage Solution
Maximize your floor space by storing. KENWEI Motorized Carousel takes advantage of vertical space, capturing what was previously wasted air and turning it into valuable storage space. Due to its one-person operation and motorized retrieval, it takes parts to the pickup, increasing productivity and improving worker safety.
Advantage:
One Person Operation – One person can rotate the shelves, locate the desired inventory item, stop at the correct position, and safely and efficiently remove the product at ground level.
Increased Safety – Reduce injury and risk by letting the machine lift for you.
Space Efficiency – The small footprint of the motorized parts carousel maximizes floor space by fully utilizing vertical space.
Work Efficiency – Optimization of productivity ratios, greater control of management and internal logistics
Cost-Saving – KENWEI offers cost-saving motorized carousel storage solutions according to your special workplaces, quick return on investment.
Various Options – KENWEI Motorized Carousel System is available in many sizes and styles to meet your special requirements.
Wide Range of Application – Our motorized carousel storage is the ideal solution for storing any industrial product, components and spare parts in all possible industrial environments.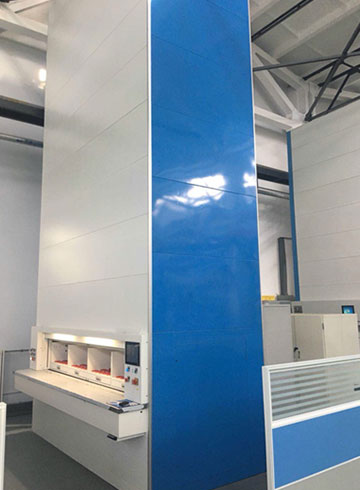 What Is Motorized Carousel?
It is a highly configurable vertical rotary system that is in charge of bring the products closer to the operator by moving all the trays inside them simultaneously. Motorized carousel storage consists of automating all or most of the tasks carried out within a warehouse and allows managing, controlling and optimizing the processes related to the reception of the material, its storage, the preparation of orders or the dispatch of the same. They allow us to improve stock control, optimize space and take advantage of all the height available for the storage of all types of products.
As a logistics solution, motorized carousel warehouses can be adopted from different environments, sectors and activities, from the usual solutions for pallets, boxes or trays to warehouses for large loads or bulky items, either at room temperature or in controlled environments or temperatures, such as frozen.
KenWei Motorized Carousels is the ideal smart solution for storing any industrial product, components and spare parts in all possible industrial environments. Space is gained while optimizing processes, order preparation, efficiency, ergonomics and operator safety.