What is an overhead track system?
This system is mainly used to transport materials in the production lines of mold workshops, painting workshops, assembly workshops, warehouses, and slaughterhouses. It can also be used in combination with suspended beam cranes (see bridge cranes) to expand the scope of services. Its characteristics are: it can make full use of the space of the factory building, and transport materials to various operating locations through many branch lines, thereby extending to the outside of the building and transporting materials between distant buildings. The lifting capacity is generally below 15 tons. The overhead trolley track system consists of three parts: a fixed track, a fork road, and a crane trolley.
What is the function of the overhead track system?
The KW brand is a leading manufacturer of track systems for rolling applications.
Common uses of our track systems are:
Curtains used in factories, warehouses, stadiums, museums, and restaurants
Truck body sliding door, building sliding door, and hanging product display stand
Cables for the power supply or control to cranes, tools, and air hoses
"Real-time" high-rack storage of products
The product needs to be routed to multiple paint booths or spray line electrophoresis line assembly lines stacked in ovens or other places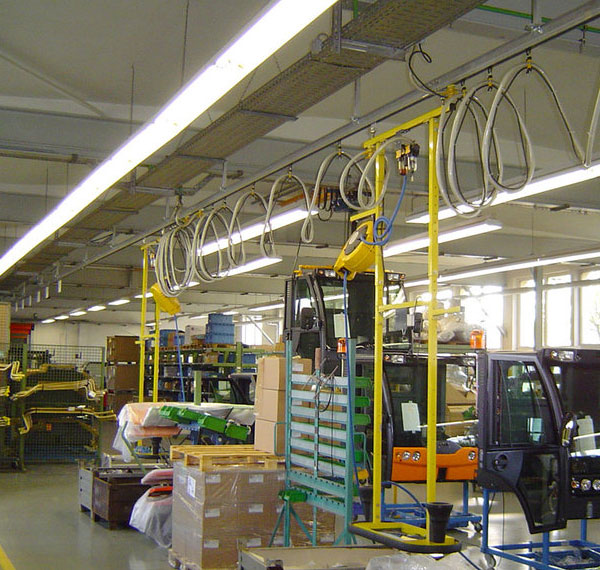 What are the advantages of the KW overhead track system?
Due to its compact design and load-bearing capacity, KW's overhead track system can carry loads in the direction of "slot down" or "slot up" (reversed power and free state) and is the most versatile power and free conveyor in the industry one.
The overhead track system can reduce the use of cost (transportation tools) and allow a large amount of cargo to move quickly throughout the process, so it is highly cost-effective
Overhead conveyor components include drop-forged non-rivet chains, drop-forged overhead trolleys system, drive chains, trolley attachments, side-chain pushrods, roller steering rollers, enclosed crawler chains, free-handling trolleys, etc.
The bolt-fixed track design is easy to assemble without welding. Modular track components can ensure fast on-site installation and modification, reduce installation labor costs, and minimize downtime.
The free trolley comes with a "plywood", the conveyor can be turned upside down for sanitary applications or to clean paint lines. The stacked trolleys have very little contact with the driving teeth, resulting in quieter operation.
The use of cheap castings and simple transmission tooth design can be inserted into the chain, with a minimum of 8 inches cc. The closer it is to the center, the faster the release rate and the shorter the cycle time.
Combined use of "wheel steering/tightening drive" can save time and money.
We have 15 years of experience and can help customers develop solutions to support items that need to roll or slide, which means we can quickly and easily help you develop effective solutions for your applications. We can manufacture our bearings and wheels, and tracks, which means that we will economically provide you with what you need, not just the contents of our catalog. Extensive housing manufacturing also allows us to meet very short delivery times and meet large and small production requirements. To learn more about how our overhead track system can help you, please contact us today