The cost of deploying labeling equipment is never small. If a labeling machine is not selected properly, it will not be useful at the manufacturing site, and there is a risk of putting pressure on the site space and management status. In order to avoid such a situation, we will explain how to choose before ordering the labeling machines for your producing line.
Factors to Consider When Buying Labeling Machines for Your Products
When considering the introduction of a labeler for the first time, there are many people who cannot easily imagine what kind of information should be available. Here are three aspects to keep in mind before you actually invest label machines for your products.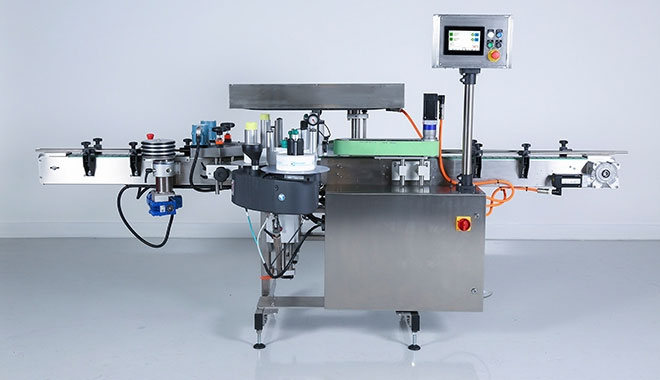 See the types of labeling machines
In a word, labeling equipment has a variety of types depending on various factors such as label form, label adhesion method, and packaging situation. Here, we will explain the following three types of labeling equipment according to the label form, which is a particularly general classification.
By the way, the device that can be manually labeled with the size that can be held in the hand is called a labeler.
① Sheet leaf labeler
A single-leaf labeler is labeling in which a large number of labels that have been cut into a certain shape from the beginning are supplied to a label hopper (label magazine), and the labels taken out from there are attached to the product. It is a device. Also called a hopper labeler or a cut labeler.
② Rotary labeler
A rotary labeling machine is a labeling device that cuts and supplies labels that have been rolled up in advance at regular intervals and attaches them to products. The process of pulling out the tape-shaped label, which is not found in the single-wafer labeler, and the process of cutting the tape are added.
② Tack labeler
A tack labeler is a labeling device that uses a "tack label", which is a "label with adhesive glue or label tape on the back of the tape in advance". The tack label is attached to the mount and is supplied to the device in a rolled state. Therefore, it is sometimes called an eclectic type of single leaf and roll
2. Check whether the equipment matches the company's products and production line
Even if the performance and cost performance side are excellent, labeling equipment that does not fit our products and production lines is a treasure. Be sure to check whether the labeling equipment you are considering installing can be labelled without problems with your company's products or the size that can be installed in the space.
In particular, please carefully check the following four items related to labeling:
Products to label – What do I label? Material, shape, size, etc. of the goods to be labeled
Label material and width – What kind of label are you trying to put? Label material (paper, film, etc.), shape, size, etc.
Place to Apply the Label – Where the label is affixed? Label in-line (in the process of your production line) or Offline (a separate process from the line, for example, a different location, such as a contractor) In addition, it is safe to check the speed of the line and the space where the machine is to be installed in advance.
Labeling Plan – What plans do you have? Production plan such as production capacity per day and variety (large lot product of single variety, small-lot production of various kinds, etc.), labeling accuracy of how accurately it is necessary to label, etc.
In addition to this, if you check in advance whether or not there is printing such as the production lot and expiration date, and whether or not there is an inspection device such as inspection of printed characters and pasting inspection, you can obtain a higher degree of accuracy. It will be easier to plan. Also, by checking not only the process of attaching the label but also the process before and after it, the efficiency of the entire production line can be improved.
3. Choose Reliable Manufacturers in Priority
There are many manufacturers that release labeling equipment, but it is also true that some of them are poorly compatible or the quality of the equipment is poor. When you ask a manufacturer, choose a reliable one that clearly communicates the performance, cost, and schedule of your product.
In addition to the name recognition, it is necessary to check the case study and results. We recommend that you check the shape similar to your product or case studies and achievements related to the same industry as your company by browsing the official website or direct inquiries.
If you tell us how to use the label and the scene, we will propose the most suitable labeler for you. If you have any questions, please feel free to contact us from the "Inquiries" below.