Real-time Print and Labeling Machine
Real-time printing and labeling machine using online or offline printing and coding equipment combined with the labeling machine can make the print data dynamic, to achieve data correlation and other functions, it is usually used in conjunction with bar code detection and reading equipment, is to achieve a code of general equipment, widely used in medicine, cosmetics, food, beverage industry food, etc.
Real-time Print and Labeling Machine work process:
When the sensor detects the product passing, the signal will be sent to the labeling control system PLC. After the signal is processed by the PLC with high-speed operation, the sticker will be sent to the set position of the product at the right time. The product passes through the labeling equipment.
Real-time Print and Labeling Machine operation mode:
Product placement (connecting pipeline) –> product delivery (automatic) –> product calibration (automatic) –> product detection (automatic) –> printing (automatic) –> labeling (automatic) –> evaluation (automatic) ) –> labeling
Marking the collection of products.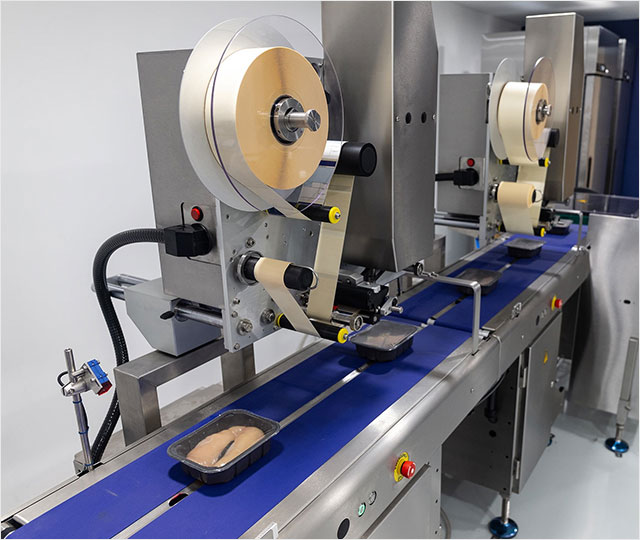 Real-time Print and Labeling Machine basic use:
Suitable for labeling or self-adhesive film on the plane of various items, such as express, electronic products, books, boxes, cartons, etc., the replacement of the labeling machine can be applied to the uneven surface labeling, widely used in the flat labeling of large products, a large range of specifications for the labeling of flat class objects, labels need to print the content, can be achieved on the machine to print directly, reducing the previous typing elsewhere and then get the labeling machine for labeling The labeling process, and the number of printed and labeled labels can be controlled to eliminate the case of less and more labels, real-time to achieve the integration of coding and labeling.
Real-time Print and Labeling Machine features:
A wide range of applications, can meet the product width of 30mm ~ 350mm product plane labeling and self-adhesive film, replace the labeling mechanism can meet the uneven surface labeling.
High labeling accuracy, subdivision stepping motor or servo motor driven label feeding, accurate label feeding; label belt winding correction mechanism design, to ensure that the label traction process does not shift left and right; eccentric wheel technology applied to the traction mechanism, traction label does not slip, to ensure accurate labeling.
Sturdy and durable, using a three-bar adjusting mechanism, making full use of the stability of the triangle, the whole machine is solid and durable.
High stability, Panasonic PLC + Panasonic needle-shaped electric eye + German Lloyds test label electric eye composed of advanced electronic control system, support equipment 7 × 24 hours operation.
Label printing content can achieve cache type while playing stickers.